Posted on
Wed, Dec 28, 2011 : 5:54 a.m.
Meet the Ann Arbor.com Adoptable Pet of the Week: Gemma
By Deb Kern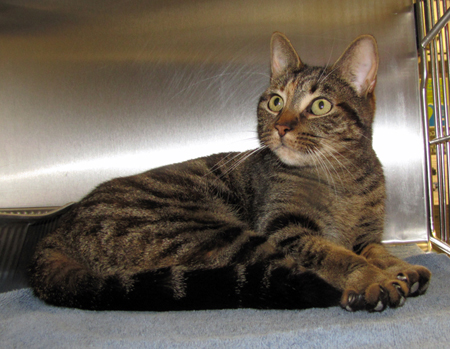 Photo by Ann Edwards
You need to take a closer look at Gemma — it's easy to miss how beautiful she is, but this pretty kitty has tortoiseshell and tabby markings all the way down her body. Her brown and orange fur is masked by her tiger stripes, but in the sunlight she actually sparkles. She is available now for adoption at the Humane Society of Huron Valley.
Aside from her looks, she's also very affectionate and easy going. This 4-year-old cat was originally found as a stray. The folks who found her report that she was quite good with their kids, and we've found her to be delightfully gentle with us. We're not sure she likes other cats all that much, so it may be wise to find her a home where she can be the only princess cat around. She promises that she's the only feline you'll need to keep your lap warm this winter, though!
All of our cats are spayed or neutered, up to date on all vaccinations and microchipped before leaving the shelter, a cost that is included in the low adoption fee. They are also litter trained. Please stop by HSHV between the hours of noon and 6 p.m., seven days a week to visit our adoptable animals.
The Humane Society of Huron Valley, located in Ann Arbor, was awarded the "Best Large Animal Shelter in Michigan" by the Michigan Pet Fund Alliance, for the second time in a row this year, for saving the most lives. HSHV is an independent 501(c)(3) nonprofit organization and relies solely on donations from businesses and individuals to support our community programs.
HSHV is NOT affiliated with the Michigan Humane Society or any other humane organization. The mission of HSHV is to promote responsible and compassionate care of all animals in our community.
Deb Kern is the marketing director at HSHV.