Posted on
Mon, Jan 2, 2012 : 6:02 p.m.
Meet the Ann Arbor.com Adoptable Pet of the Week: Jackie
By Deb Kern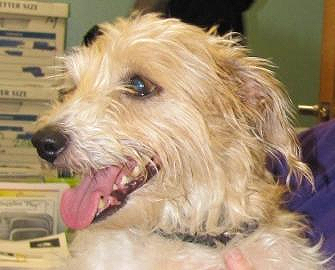 Photo by Ann Edwards
Jackie is an affectionate and friendly small dog that is available for
adoption
at the
Humane Society of Huron Valley
.
She's spent most of her life living in a yard with other dogs. We are hoping this new year will bring much warmer and happier times for this little girl.
Jackie is a 5-year-old white and tan Jack Russell/Wiredhaired Terrier mix who is craving one-on-one attention and TLC from her new family.
She is quick to jump into your lap and snuggle, so her new family should be looking for a wonderful lap dog, because that is what she wants to become.
Because Jackie was not given enough human interaction, she tends to get really excited upon meeting new people and will bark if you do not pay attention to her. But given a few minutes, and time to greet you, she settles down and her whole body wags when you pet her.
Jackie will need time to adjust and to understand that her new life will be indoors where she belongs. She may need additional training but this sweet dog promises to be a lovely companion.
Jackie is happiest right now when she's in the company of people or other small dogs, so the best thing for her was to stay in one of our caring foster homes instead of a kennel.
It is very easy to meet this wonderful dog though, and all you need to do is email us at fosters@hshv.org or call 734-662-5585, extension 111.
Jackie is ready to begin her new life now!
All of our pets are spayed or neutered, up to date on all vaccinations and microchipped before leaving the shelter, a cost that is included in the low adoption fee. Please stop by HSHV between the hours of noon and 6 p.m., seven days a week to visit our adoptable animals.
The Humane Society of Huron Valley, located in Ann Arbor, was awarded the "Best Large Animal Shelter in Michigan" by the Michigan Pet Fund Alliance, for the second time in a row this year, for saving the most lives. HSHV is an independent 501(c)(3) nonprofit organization and relies solely on donations from businesses and individuals to support our community programs.
HSHV is NOT affiliated with the Michigan Humane Society or any other humane organization. The mission of HSHV is to promote responsible and compassionate care of all animals in our community.
Deb Kern is the marketing director at HSHV.