Posted on
Tue, Oct 25, 2011 : 5:55 a.m.
Meet the Ann Arbor.com Adoptable Pet of the Week: Ollie
By Deb Kern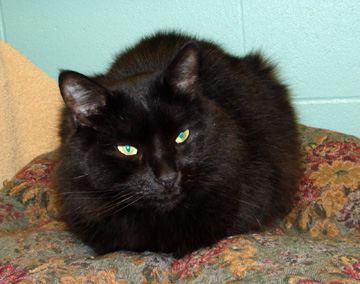 Photo by Deb Kern
Ollie is often found napping on a cat bed in Purrs Plaza, one of the community cat adoption rooms at the Humane Society of Huron Valley. It's hard to miss Ollie's handsome gold/green eyes and his soft and silky black fur.
When you enter Purrs Plaza, many of the cats come running over, meowing and begging for attention — not Ollie. He stays put. He doesn't feel it necessary to get out of his bed to ask for attention, but if you make the first move and pet him, everything changes. Ollie will start purring and making massive paw muffins in his pillow and will ask for more of your affection.
Back in May, Ollie's owner became incapable of caring for him, and since then he has been sitting back in his usual quiet manner just waiting. It kind of breaks my heart that so many people have walked by him these many months with no idea that Ollie is such a fantastic companion.
I often go and visit him, and when he crawls into my lap and rubs his head on my arms and hands. I hope someone will walk by and ask me about him. I would tell them that Ollie is a lovely guy, who likes other cats and won't need much. I would also tell them that Ollie has been at the shelter far too long and will be forever grateful to have a home of his own.
If you have room in your home and heart for a quiet, affectionate 4 and 1/2-year-old black cat, please come and visit Ollie. Remember, to seek him out — you won't be disappointed.
Because HSHV has been overwhelmed with adult cats, we will be running adoption specials until further notice, including offering adult cats over 5 months old for free adoptions to caring homes (HSHV adoption requirements apply). Please make adoption your first option.
The Humane Society of Huron Valley, located in Ann Arbor, was recently awarded the 'Best Large Animal Shelter in Michigan" by the Michigan Pet Fund Alliance for saving the most lives. HSHV is an independent 501(c)(3) nonprofit organization and relies solely on donations from businesses and individuals to support our community programs.
HSHV is not affiliated with the Michigan Humane Society or any other humane organization. The mission of HSHV is to promote responsible and compassionate care of all animals in our community.
Deb Kern is the Marketing Director at HSHV.