Pets:

Meet the AnnArbor.com adoptable pet of the week: Ingrid Bergman

Posted on Tue, May 1, 2012 : 5:44 a.m.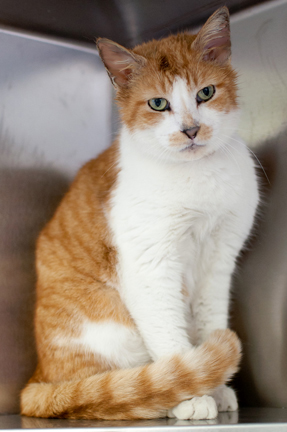 Ingrid Bergman came to the Humane Society of Huron Valley from a large feline family of over 20 cats that were not being cared for properly. They all needed a little TLC and some medical care, but, luckily, each one recovered and most have already been adopted.
Ingrid is about 7 years old. She's a little shy at first, but nothing can stop her purr motor and her curiosity certainly wins out over her initial shyness. She's a sweet, gentle little cat who might need a home without small kids because she's a wee bit frightened of being picked up right now, and small ones may not understand this.
Ingrid will need a little time to settle in but she is worth the wait. HSHV has information on making your cat's tranisition to your home easier.
Ingrid Bergman has started to settle in and is jumping right down for pets from her perch. She loves to rub up against you, and if you talk to her she will talk right back. If you notice, she has some black splashes of pigment on her nose and face which just adds to her overall beauty! We think she is a wonderful girl, and she would like to go home with you today. With a proper introduction we do think she could get along with another cat.
All of the pets at HSHV are spayed or neutered, up to date on all vaccinations and microchipped before leaving the shelter, a cost that is included in the low adoption fee.
Please stop by HSHV between the hours of noon and 6 p.m., seven days a week, to visit our adoptable animals.
The Humane Society of Huron Valley, located in Ann Arbor, was awarded the "Best Large Animal Shelter in Michigan" by the Michigan Pet Fund Alliance, for the second time in a row this year, for saving the most lives. HSHV is an independent 501(c)(3) nonprofit organization and relies solely on donations from businesses and individuals to support our community programs.
HSHV is not affiliated with the Michigan Humane Society or any other humane organization. The mission of HSHV is to promote responsible and compassionate care of all animals in our community.