Posted on
Tue, Aug 9, 2011 : 7:12 p.m.
Pet food company Merrick recalls Doggie Wishbone dog treats with an 'abundance of caution'
By Lorrie Shaw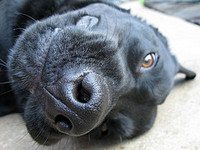 Flickr photo courtesy of OakleysOriginals
Merrick Pet Care Inc., an industry heavyweight, announced in an Aug. 8 FDA press release that they are recalling a single lot of dog treats, as a precaution.
The 248 cases included in the recall were distributed in 10 states. All of the distributors have been notified.
Salmonella is the reason for the recall.
The bacteria, as reported here on the AnnArbor.com pets section, is the top reason for pet food recalls.
No illnesses have been reported, and the bacteria was detected by routine sampling by the FDA.
Merrick's Doggie Wishbone pet treats included in the recall have the following information imprinted on the package: Item # 29050, UPC # 2280829050, Lot 11031.
The package is also marked with a "Best By" date of Jan. 30, 2013.
No additional Merrick Pet Care products are involved in this recall.
Salmonella, also referred to as salmonellosis, causes digestive problems, and dogs will typically present with fever, diarrhea, vomiting and weakness. Other symptoms can occur.
Salmonella is a zoonotic disease, meaning that it can be passed to humans as well, so care needs to be taken. Hand washing is a must — even when handling dry pet food or treats that may be contaminated with the bacteria.
Because there are more than 2,000 strains of salmonella, it's the most common cause behind pet product recalls. Very young and very old pets are most susceptible to the bacteria and suffer the effects most profoundly. The most common symptoms associated with salmonella are vomiting, diarrhea and fever. Companion animals presenting with symptoms are treated with IV fluids and antibiotics.
That being said, salmonella can affect other animals — not just the dogs who chew on the treats. There is risk to humans from handling contaminated pet products. People handling dry pet food and/or treats can become infected with salmonella, especially if they have not thoroughly washed their hands after having contact with the chews or any surfaces exposed to any contaminated product.
Read the FDA press release by clicking here.
You can count on AnnArbor.com to have up-to-date information on pet product related recalls available. Click here to search our archives of previous recalls, the most recent being from Aug. 1, initiated by the Nestle Company.
Lorrie Shaw is lead pets blogger for AnnArbor.com. Connect with her on Google+ or e-mail her directly.