Posted on
Mon, Nov 22, 2010 : 3:05 a.m.
Michigan-based pet air bed company says goodbye to its namesake
By Lorrie Shaw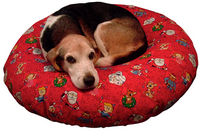 Photo courtesy of Julie King
Many dogs from around the world are able to rest easier today because of the challenges that one pooch faced on a day to day basis. Julie King, whose dog Gertie had numerous physical challenges but an indomitable spirit, was the inspiration behind the Gertie Gear pet air bed.
King, who adopted Gertie in 2004 from the Michigan Humane Society Berman Center, knew that the beagle was an adult (her age originally estimated at 5 or 6 years old). However, after her homecoming and a trip to the family vet, Gertie's age was deemed to be older — 8 to 9 years old.
The newest member of the household wasn't without her health issues, and it was important to King that the pooch was as comfortable as possible.
Due to Gertie's back pain and incontinence, King found that the traditional dog beds that she had tried were not suitable for many reasons: In most cases, they did not offer the support that the lovable pooch desperately needed for the pain that slipped disks caused occasionally, and King needed to be saved from being a slave to the washing machine on a daily basis.
So in 2008, with those two needs in mind, King — an animal lover and a staunch advocate for sustainability — set out to design a pet bed that met the core criteria and then some. It also needed to be durable, and best of all, sustainable. After the experience of having to throw other dog beds away because they compressed so quickly with everyday wear and regular washing, King made it a point to design a pet bed that would really last and that was easy to keep fresh, while minimizing resources needed to do so.
Obviously, these are qualities that a lot of pet owners can appreciate. Word got out fast, and others wanted the same comfort for their dogs.
King's diligence resulted in a three-part pet air bed system that is comfy, thanks to an inflatable inner core that forms a natural "nest", durable because of the tough canvas that encases the air tube and the easy-to-slip-off-and-launder outer covers. Years later, the Gertie Gear pet air bed is sold and shipped around the world. Best of all, Gertie Gear pet air beds are hand-crafted in Michigan! The beds have been featured in The Bark and Modern Dog.
A savvy business person, Gertie Gear is King's second venture. She is also owner of Greenworld Creative LLC, a creative services agency.
Last week, I personally spoke to King, as I received word that her much beloved Gertie had died on Nov. 13 at the (estimated) age of 16 from natural causes. As we spoke, King mused about her life with Gertie and what's going on now.
Gertie by all accounts had a tough life before arriving at the shelter, but her life after was clearly pointing in a good direction. King had actually gone to MHS to look at another dog, but that one had been moved, and an adorable, adult beagle — Gertie — was in its place in an enclosure. "We saw her and I said,'Oh, look at her! She's an older dog... who's going to adopt her?' She was so cute," King remarked.
Gertie acclimated well into life in the King household, and before long it was obvious how the pooch had made it through life prior to coming to her permanent home: determination and resourcefulness, something that King notes is what Gertie's nature never failed to reinforce in her. The dog also gave King another gift, patience. A talented escape artist, Gertie could break out of dog crates and scale baby gates if she set her mind to it. She once scaled a baby gate, sauntered down to the basement and helped herself to a pot roast, only after opening the door of the refrigerator that it was kept in.
"She always managed to make us laugh, and she'll be missed.", said King.
Gertie inspired much among those were in her midst. Her legacy continues, with a nod in FIDO Friendly's gift guide in their December 2010 issue. Also this past week, Gertie Gear was once again lauded by the American Kennel Club's Holiday Gift Guides, in their Gazette and Family Dog magazines as a number one featured product; a great tribute to the dog who inspired so many.
In May, Gertie Gear was featured locally as a "Made in Michigan" company.
Find Gertie Gear on the web on GertieGear.com and on Facebook.
Lorrie Shaw is owner of Professional Pet Sitting, and a regular contributor to AnnArbor.com's pet section. She wrote the popular piece "The bucket list for pets: What does your dog want to do before he dies?" Reach her via e-mail and follow her pet adventures on Twitter.