Posted on
Sat, Jun 11, 2011 : 2:57 p.m.
Michigan Humane Society under fire over kill rates; two board members resign
By Lorrie Shaw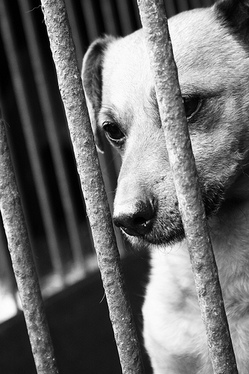 flickr photo courtesy of powazny
Companion animals in southeast Michigan have been impacted by the economic problems just as so many people have, and the numbers of pets that have been abandoned or relinquished has risen dramatically.
That very topic has been the focus of many news reports.
With the surmounting challenges of so many pets flooding shelters, there are bound to be road bumps along the way when it comes to addressing the needs of homeless, abused and neglected pets in south east Michigan.
In light of that, some shelters in the state have faced the problem head on, implementing policies and programs that strive to come to the aid of those helpless pets — who in some cases are ill or injured — and getting a high percentage of them permanently placed in stable, loving homes.
One agency has, in some people's eyes, simply fallen short.
The Michigan Humane Society is taking some heat after it was discovered that the agency euthanized about 70 percent of its animals in 2010.
In the shadow of that news, two members of the Michigan Humane Society Board of Directors resigned Monday over what one of them stated was the agency's unacceptable euthanasia rate.
Board members Cheryl Phillips and Lee Lien quit after members voted 7-5 against an external audit of MHS's practices by an outside veterinary program — an action that Phillips felt was prudent due to the high kill rate.
MHS, one of the largest shelters in the nation, took in 13,725 cats and kittens in 2010. Seventy percent of those pets were euthanized. Sixty-eight percent of the 11,191 dogs and puppies that came through their intake were euthanized, and as MHS Vice President Mike Robbins says, roughly 51 percent of the animals come from Detroit alone.
MHS has locations in Westland, Rochester Hills and Detroit. They receive no federal or state funding and are not affiliated with any national humane organizations.
In July of 2010, MHS partnered with Detroit Animal Control, giving MHS the ability to find homes for the adoptable animals so that DAC could focus its energy on animal control and public safety services, which includes the capture of stray animals within the city of Detroit.
Phillips finds the 70-percent kill rate out of line with what MHS proclaims is a high adoption rate of healthy animals, saying that claims that 70 percent of the pets brought in to the facility are too ill are dubious.
"I doubt that our funders would be happy with a '100 percent healthy adoption rate' if they knew that behind the scenes, fewer than 7,000 of the 24,000 total intakes were actually adopted, and more than 17,000 animals were 'classified' as untreatable by MHS management … and were killed," a statement written by Phillips reads.
Here in Washtenaw County, the Humane Society of Huron Valley (which is not part of MHS), fares much better, with a save rate of 81 percent. Earlier this year, HSHV was given the "Outstanding Large Shelter Award" by the Michigan Pet Fund Alliance because of their work, as was reported on AnnArbor.com in April, with the following large animal shelters trailing behind:




Oakland County Animal Control = 56 percent save rate


Saginaw County Animal Shelter = 29 percent save rate


Michigan Humane Society = 28 percent save rate (all three shelters combined)


What do you think about the state of affairs in shelters dealing with the plight of those animals that are relinquished or left behind to fend for themselves?
Does geographic location have any bearing with the overall problem in the state?
Read more details about the situation at the Michigan Humane Society on the Detroit News' website by clicking here, and tell us how you feel in the comments below.
Lorrie Shaw is lead pets blogger for AnnArbor.com and writes about pet health, behavior, pet culture and more. Catch her daily adventures as a professional dog walker and pet sitter, or email her directly.