Pets:

Meet the Ann Arbor.com adoptable pet of the week: Midnight

Posted on Tue, Jun 12, 2012 : 8:25 a.m.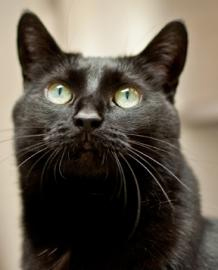 Photo by Mark Quint
Midnight is a sweet and loving cat. This beauty is a 9-and-a half-year-old short-hair black cat. Sadly, this little girl seems to have been bounced around a bit lately by no fault of her own, so we are hoping that Midnight will find a forever home and live happily ever after.
Midnight is a quiet and loving cat who will do best in a peaceful and calm home. She did live with another cat in her previous home and really did not enjoy it, so we are looking for a feline-free family for her.
This gentle cat has the sweetest little purr motor and seems to want nothing more than attention and love. Midnight is a curious, playful, affectionate and outgoing kitty... all of the best things any cat can have!
Amazingly enough black cats and kittens are not adopted as quickly as other cats. We can blame this on a couple of things. Some people still believe in old superstitions about black cats being bad luck which is far from the truth.
Additionally, black cats don't photograph well and aren't distinctive enough to draw the attention of adopters like calicos or orange tabby cats. Sadly that means that many people pass them by, and the black cats aren't even given a chance to make a connection to a potential adopter.
The real truth is that black cats are some of the best temperament cats you can spend time with. Watch this video for other reasons why you should adopt a black cat.
Every pet available for adoption is spayed/neutered, up-to-date on their vaccinations, medically and behaviorally evaluated, and they have a microchip ID all included in their low adoption fee. Please make adoption your first option.
The Humane Society of Huron Valley, located in Ann Arbor, was awarded the "Best Large Animal Shelter in Michigan" by the Michigan Pet Fund Alliance, for the second time in a row this year, for saving the most lives. HSHV is an independent 501(c)(3) nonprofit organization and relies solely on donations from businesses and individuals to support our community programs.
HSHV is not affiliated with the Michigan Humane Society or any other humane organization. The mission of HSHV is to promote responsible and compassionate care of all animals in our community.