Posted on
Fri, Oct 21, 2011 : 5:58 a.m.
More on kids and dogs, and comments from readers
By Julia Levitt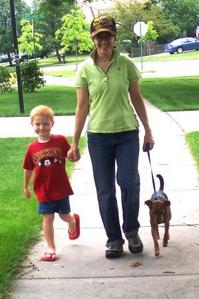 Julia Levitt | Contributor
When I was a little girl — back before cellphones and computers — I begged my parents for a
dog
. I was ecstatic when Pal came to live with us.
Never mind that he was being given away. We soon found out why: he attacked other dogs, and he peed and pooped where ever he felt like. Of course his favorite spot was the living room!
I adored him.
My parents had no interest in Pal. I used to take him on walks and our hyper energy matched each other's.
Taking care of a dog is a big responsibility for a child. Let's see what the kid dog experts Andre and Calvin Millan say on these points.
For kids:
Make sure you're really ready to be responsible before asking your parents for a dog. It's a lot of work!
Pitch in with the whole family to take care of your dog when it comes to feeding, cleaning up, and health care. Your dog will appreciate it.

Give your dog exercise, discipline and affection. No skipping straight to affection, no matter how much you want to!


It is just as important for parents to assess the family's needs as it is for individuals to assess their needs before a new dog is introduced in to the house. So here are a few things to think about when considering the prospect of welcoming a new dog.
Are the children quiet? Do they like to play but not rough house? Or is wrestling the norm?

Are your children allergic to animals?

Does the family have time to groom a dog?

Is the decision to have a dog based on impulse? Did you see a cute dog in the pet shop window and have to bring it home?

Have you as parents visited the future dog's environment and seen the parents of your dog? If it is an adult dog and not from a shelter, why is the person re-homing the dog?

Finally, does the family travel a lot?


It is so much easier to ask these questions now, before you venture into life with a dog. When you bring a canine into the home and it is not a good fit, it is very difficult to re-home a mismatched dog.
I have received so many positive and constructive comments from my last blog post about kids and dogs; I'd like to share them with you.
Macabre Sunset said:
The responsibility lies on both sides.
On the parents' side: just like you teach a child to look both ways before crossing the street, teach the child to ask before approaching a dog, and to avoid stray dogs and report them to you.
On the dog owners' side: you need to accept that any dog can become dangerous for reasons you don't fully understand. Keep your dog restrained and under your full control. When approaching a stranger while on a walk, take care that you don't force them into contact with your dog.
buildergirl commented:
This is correct behavior, and I'm shocked by people's attitude.. . Because really, that's what it's about. You don't expect a wild animal to live by human rules; dogs are the same, though they are trainable for our world. I foster rescue dogs and live next door to a park. I am very cautious with new dogs or dogs that are uneasy around kids or strangers. But I still have a right to walk them. I move off the sidewalk and yield the right of way if needed. My dogs are always leashed and in my control. Children are not always.
What is wrong with teaching your children how to properly behave in any situation? You are not always there to watch and not everyone is going to be responsible for you or them.
Woman in Ypsilanti added:
@Jordan I think your response is a good example of why there is often so much conflict between parents of young children and dog owners. The thing is that it isn't just about the safety of your kids. It is about the dog, too, and the dog's owner. You might not mind constantly being required to tell people that they must move slowly as they approach your skittish dog, but many people prefer it if children don't invade their personal space without asking first. If you can't control your children enough to prevent them from running up to strange dogs, maybe you shouldn't bring your children downtown? … dog owners, who might not want to have to deal with kids, should be the ones staying home.
swcornell interjected:
Strange, I wouldn't allow my children to run up and hug or touch another child or adult! Why would you allow them to do this to an animal?
Thank you readers. Your comments are thought provoking, and produced much reflection on the many issues we face — not only with dogs but ourselves.
More tips and resources for children on all things canine are available on the web at Cesar Millan Kids.
Julia Levitt is the founder of In Harmony Dog Training (www.inharmonydogtraining.com) in Ann Arbor. She can be reached at julia@inharmonydogtraining.com or at 734-645-4707. Julia provides individual training for dogs and their owners, and also conducts dog training classes at Ann Arbor Animal Hospital.