Posted on
Wed, May 5, 2010 : 5:45 a.m.
Commercialism: coming to a pet near you
By Lorrie Shaw
My mantra in raising and caring for pets has always been: "Spend half as much money, and twice as much time."
Dog ownership in American homes was more than 60 percent in 2009. It's no wonder that the pet industry has grown in recent years. Some areas are new and exciting - well thought out, and they appear to be great at helping pet lovers to nurture their furry friends. I, too, am always on the lookout for things that can benefit either my own pets or my pet clients. But, I have to admit - I'm very disturbed by some of the things that I'm seeing.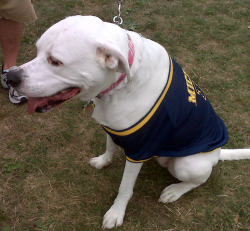 Lorrie Shaw | Contributor
Just as with a lot of others, the
pet industry
has become perverted by commercialism. Horribly. Walk down any pet food aisle. Bags of kibble are on shelves of grocery and pet stores, brilliantly designed, with images of cooking show personalities and names of famous books splashed all over them. In reading the ingredient lists, I'm mostly disappointed: If these companies put half as much effort into the pet food, it might even be worth the price that they are asking. I guess they need to pay out those endorsements somehow. I don't care who allows their likeness on the
pet food
that I choose - I care about quality ingredients, and how beneficial and nourishing the product is. What you put in, you get out.
There are a lot of cool products that keep pets comfy, happy and also aid in training. Truth be told, I buy very few things to keep my brood happy. Both dogs have distinctly different personalities and the things that keep them satisfied vary. There a few that I've felt are useful and help foster a sense of balance.
Teaching a dog to walk at heel can be challenging. Solid training, proper tools and time are needed to teach a dog to do it, and some just take longer to train. I found that a choke chain worked best in the training that I was employing years ago with Gretchen. It progressed easily, but admittedly I hated to use a choke chain on her neck. I did like the idea that in an area that has a lot of traffic, especially, a choke chain really does offer the added benefit of making sure she can't wiggle out accidentally and get loose. It's a good tool, but I've since become very fond of harnesses - they solve the problem of making sure that you and your dog stay connected and are a more sensible way of training a dog to walk on a lead. I prefer a harness that clasps at the chest - a productive point of control, even with strong, large breed dogs. Head collars have become popular, recently. I'm not sure who designed them. They make me cringe.
My other mantra: If you have a product or method that's presented to you as a pet owner that makes you uncomfortable, by all means, don't use it. Check things out a little more. Just because something is on the market, it doesn't necessarily make it a good idea.
Lorrie Shaw is owner of Professional Pet Sitting, as well as a regular contributor to AnnArbor.com's Pets section. She can usually be found cheerfully walking around local neighborhoods, on the other end of the leash. She welcomes your contact via e-mail.