Posted on
Fri, Nov 11, 2011 : 10 a.m.
Foster volunteers lauded during National Animal Shelter Appreciation Week
By Lorrie Shaw
Photo by Suzanne DeVine
There is never a shortage of tasks that need doing in the Washtenaw County region — or people or pets that need help. In the current economic climate, this has become more obvious, and people want to do what they can and give back to the community.
Pets are a big part of so many humans' lives, so, for many of those folks, spending time helping our organizations that address the critical needs of homeless, abused and neglected animals just comes naturally.
In recognizing National Animal Shelter (and Rescue) Appreciation Week (Nov. 6-12), we're celebrating the effort volunteers give to local shelters and rescues to help make them the success that they are, and today two volunteers are featured.
The largest and most prominent animal shelter in Washtenaw County is, of course, the Humane Society of Huron Valley. Much of what one might be exposed to regularly when it comes to the organization is hearing about the programs that they offer to the public or the work that they do directly in the community.
But a lot goes on behind the scenes, and volunteers are at the heart of it all. Some of the effort is performed directly on site, but one assignment that is crucial — and likely the most effective in successfully healing the physical and mental hardship that homeless pets endure and to facilitate placement with a permanent family — is as acting as a foster volunteer.
It's definitely a unique idea, but one that makes sense: some pets are not well-suited to shelter life. New mothers with litters of young ones, or those animals who are ill or recovering from and injury or surgery are good candidates for fostering. Some animals just need a break from the noise and hustle and bustle of the shelter.
Being in a home environment is ideal, as it reduces mental stress, promotes socialization and facilitates long-term success when it comes matching pets with just the right families.
And as Suzanne DeVine can attest, being a foster volunteer is an easy and gratifying way to help out HSHV, especially if one finds it hard to find the extra time to volunteer at the facility. With work, personal and family commitments, some people feel deterred from getting involved, but fostering makes it simple. For this reason, and because of her love of cats, DeVine finds that giving back in this way is a perfect fit.
Monika Dressler began fostering after hearing a friend's musings on her experiences at HSHV as a dog walker. A lifelong dog lover, Dressler wanted to get involved but also found the time factor difficult to manage. Fostering seemed perfect, and as someone who was already sharing her life with two dogs, she thought, 'What's one more leash to hook up for a walk?'
That was 14 dogs and a few short years ago. Dressler has cared for a Dogue de Bordeaux, two beagles and mixed breed dogs. Leo, a light brown pit bull who is about a year old, has been living with Dressler for about four and a half months.
Being a foster volunteer can last as little as a few days to as long as a few months.
DeVine and her family began fostering Maisie a few months ago after the too-skinny, young cat was discovered, along with Maisie's litter of kittens in a box, on someone's lawn and taken to the Humane Society. After assessing the new mother and the kittens, it was determined that fostering would be ideal for them.
That's where the DeVine family came in. Maisie is the 24th cat they have fostered in three years. All of the cats have found permanent homes, including Maisie's kittens, but mom stayed with the family.
"Family life is essential for the socialization of pets, and as you can imagine, primarily for young kittens. Our kids really benefit from the experience too!" says DeVine, who lives on a farm in Ann Arbor.
After giving her a little time to settle into life after mothering her brood, the cat's weight did not climb back up, which was a concern. After being reassessed by HSHV veterinary staff, it was discovered that bartonella was behind the problem. With antibiotics being administered by the family at home, the illness was taken care of, and the cat doubled her weight.
"Maisie has done well in adapting to family life, considering her difficult beginnings, and she gets along well with our dogs and some of our cats. She also loves kids, which is ideal. She's a great companion."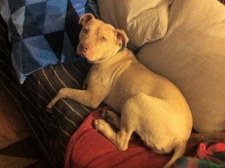 Photo by Monika Dressler
Fostering is a great way to showcase adoptable pets. That is what the DeVine family is hoping will come along soon for Maisie: a permanent home. The additional exposure to a family's loved ones and such that pets get while in foster care is integral sometimes in finding just the right match.
Leo's start in life was not ideal, either. A neglect/abuse case — a common scenario for pit bulls — the puppy was found on the street. HSHV picked him up and nursed him back to health at the facility. Since he was a perfect candidate for the foster program, Foster Care Coordinator Ann Edwards matched Leo up with Dressler, who specializes in caring for pit bulls.
"He is a very loving and social dog. He seems to really enjoy being in a family unit and having my two dogs as pals suits him well. He's thriving!" Dressler remarks.
Another benefit that generous foster volunteers provide to HSHV is breaking stereotypes. By showcasing adoptable pets in a home-like environment and in public in everyday situations, people tend to quickly get past any biases that they might have about shelter pets. It's often thought that shelter pets are full of problems or unmanageable.
And because of Leo's breed association, dispelling myths is important. The seasoned volunteer also fostered Hercules, another pit bull and one of the most notable cases to be investigated by HSHV cruelty and neglect department.
Listening to Dressler softly acknowledge Leo during our phone conversation, it's obvious that she has an attachment to the dog. She notes that it's important to establish a connection to the animal, as being able to understand what makes them tick — where they are at physically and mentally — is vital to help HSHV place them permanently.
"It is hard to let go of them when they're adopted, but knowing that they're going to a good home — a forever family — it's such a joy. It's the ultimate goal, really."
DeVine concurs, and says that it's also a great way interact with other pet lovers. "I've stayed in touch with some of the adoptive families and seeing how much the pets are a part of their lives now makes even more worthwhile."
Looking for a way to make a difference? Connect with HSHV to see how that's possible by clicking here.
Lorrie Shaw is lead pets blogger for AnnArbor.com. Catch her daily dog walking and pet sitting adventures or email her directly.