Posted on
Sat, Apr 30, 2011 : 10:30 a.m.
National Mutt Census gives clearer picture of current status of dog population in Michigan; nationwide
By Lorrie Shaw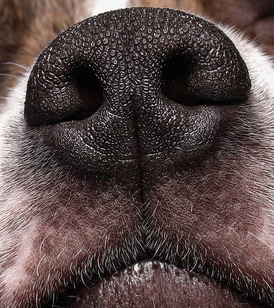 Flickr photo courtesy of Mark Watson
With dog ownership continuing to climb, the gene pool of mixed-breed canines also expands. It's interesting to hear about the lineage of mutts, and quite often, there are combinations of breeds that are unexpected.
One predominant breed that I find in my encounters in the "Heinz 57" population is the German shepherd, and that isn't all that surprising, according to a recent study conducted by Mars Veterinary, which is part of the Mars Incorp. family, makers of the Pedigree pet brand.
In 2010, Mars Veterinary began the National Mutt Census, taking more than 30,000 samples from mixed-breed dogs from across the United States and combined that information with data derived from an online survey that 16,000 mutt owners participated in.
German shepherds were found to be the most popular breed comprising the country's mutts, followed by, in order: Labrador Retriever, Chow Chow, Boxer, Rottweiler, Poodle, American Staffordshire Terrier, Golden Retriever, Cocker Spaniel and Siberian Husky.
The outcome of the study reflects recent trends in purebred breeds, which has for many years been the German shepherd, nationwide.
Some of the top mutts are reminiscent of past trends.
"If a breed was trendy in the past, but has fallen from popularity, it may still represent a large portion of the mixed-breed population," says the report.
In essence, a breed that was popular 20 years ago is commonly found at the grandparent or great-grandparent level in tested mixed-breed dogs.
The most popular breed found in the state of Michigan's mutts? You guessed it: Labrador Retriever.
Other data gathered from dog owners in Michigan, includes trends in where people are getting their dogs, whether or not their furry friends are neutered — and attitudes of the state's residents regarding the human-animal bond.
Additionally, the study illustrates a clearer picture of the demographic of mixed-breed owners in The Mitten: The highest percentage of people, those in their mid-to-late 20s, share life with a mutt, followed by those ages 41-45.
Fifty-one percent of those who participated in the study and reside in Michigan are childless — another telling trend.
Additional data on these canines include the dietary regimen, activity level, rate of diagnosed genetic disease (like food allergies), use of flea and tick preventative and more.
How does the current gene pool, overall health and treatment of canines affect future generations of dogs? We will know for sure only when that time comes. One thing is clear: The fate of the animals in this species, whether they be of mixed-lineage or purebred, lies inherently in human hands.
Read more results from the Mars Veterinary Mutt Census by clicking here.
Lorrie Shaw is lead pets blogger for AnnArbor.com and owner of Professional Pet Sitting. Shoot her an email, contact her at 734-904-7279 or follow her adventures on Twitter.