Posted on
Sun, Apr 21, 2013 : 9:28 a.m.
Natura expands recall of pet food for cats, dogs and ferrets because of Salmonella
By Lorrie Shaw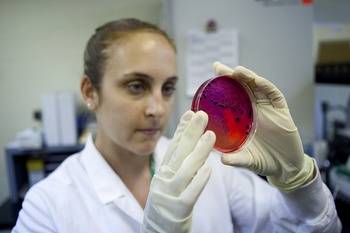 Flickr photo by News21 - Natonal
In late March, pet food company Natura initiated a recall
of some lots of specific formulas of their dog, cat and ferret food, because of Salmonella. According to the Food and Drug Administration, the company has expanded their recall.
The recall now includes all dry pet food products and treats with expiration dates prior to and including March 24, 2014.
All of the canine, feline and ferret product lines in this category that are manufactured by Natura, including California Natural, EVO, HealthWise, Innova and Karma are included in the recall.
Routine testing of product by the Michigan Department of Agriculture and the Georgia Department of Agriculture detected the pathogen.
No canned varieties of pet food are included.
Salmonella, also referred to as salmonellosis, causes digestive problems, and mammals typically present with fever, diarrhea, vomiting and weakness. Other symptoms can occur. Some animals with Salmonella infections may be lethargic and have diarrhea or bloody diarrhea, fever and vomiting. It should be noted that some animals will have only decreased appetite, fever and abdominal pain. If your pet exhibits any of sign of illness and has consumed this product, they should be seen by their veterinarian immediately.
Salmonella can affect other animals as well — not just the pets who consume the treats. There is risk to humans from handling contaminated pet products. People handling dry pet food of any kind and/or treats can become infected with Salmonella, especially if they have not thoroughly washed their hands after having contact with the treats or any surfaces exposed to any contaminated product.
More information on the recall or a product replacement or refund can be obtained by Natura by calling toll-free: 800-224-6123. Monday - Friday, 8 a.m. to 5:30 p.m. (CST).
You can count on AnnArbor.com to have up-to-date information on pet product related recalls available. Click here to search our archives of previous recalls.
Lorrie Shaw leads the pets section for AnnArbor.com and owner of Professional Pet Sitting. Shoot her an email, contact her at 734-904-7279 or follow her adventures on Twitter.