Posted on
Wed, May 16, 2012 : 5:53 a.m.
Nestle Purina PetCare recalls one formula of cat food
By Lorrie Shaw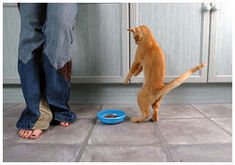 flickr photo by nimir-ra
According to a May 11 press release from the Food and Drug Administration, one formula of
cat food
is being recalled by the company that produced it,
Nestle Purina PetCare Company
(NPP).
The recall applies to Nestle Purina PetCare's Purina Veterinary Diets OM Overweight Management canned cat food with a "best by" date of June 2013 and the production code 11721159. The lot was distributed to veterinary clinics between June 2011 and May 2012 throughout the U.S. and Canada.
It was not sold in retail stores.
Cats fed this lot exclusively for several weeks may be at risk for developing a deficiency of thiamine, which is an essential vitamin for felines.
Symptoms of deficiency displayed by an affected cat can be gastrointestinal or neurological in nature.
In advanced cases, neurological signs can develop, which may include ventriflexion of the neck, wobbly walking, falling, circling and seizures. If your cat is displaying any of these signs, you are urged to contact your clinician immediately.
Thiamine deficiency is typically reversible if treatment is not delayed.
Consumers are asked to call Purina's toll free number 1-800-982-8837 Monday through Friday, 8 a.m. to 4:30 p.m. (CST) or visit their website.
Click here to read the FDA press release.
Lorrie Shaw leads the pets section for AnnArbor.com and is owner of Professional Pet Sitting. Shoot her an email, contact her at 734-904-7279 or follow her adventures on Twitter.