Posted on
Mon, Aug 23, 2010 : 12:30 p.m.
New Department of Justice's ADA regulations narrow definition of service animals
By Lorrie Shaw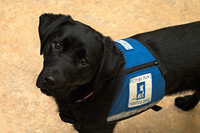 Flickr photo courtesy of pmarkham
It's no secret that animals possess special qualities that are very useful to those who have a physical disability.
Well-trained Seeing Eye dogs are probably the most common and were pioneers in demonstrating the role that they serve in assisting individuals who are visually impaired.
In time, service animals - typically dogs - held a larger capacity, also undergoing extensive training. These dogs, specifically trained for a variety of tasks, like pulling a wheelchair, opening doors, picking up dropped objects and so much more, go through months of training, and at great cost - upwards of $20,000.
The training is rigorous. The end result for the exceptional few dogs that graduate from programs like a small handful here in the southeast Michigan area Canine Assistants, Paws With a Cause, Assistance Dogs of America, Inc. and Sterling Service Dogs.
Since the Americans with Disabilities Act was enacted by Congress in 1990, service animals have accompanied the humans that they assist in public places. In recent years, more unexpected species, like snakes, lizards and parrots had been installed as service animals. And in some cases, these untraditional service animals are much to the dismay of the public.
In the years since dogs gained greater acceptance as service animals, other creatures, like Miniature horses were also installed as service animals.
A few weeks ago, Attorney General Eric Holder signed revisions that were made to the Department of Justice's Americans with Disabilities Act - revisions that clarify which species are considered service animals. Any part of the regulations that were ambiguous before, are no longer. Only dogs qualify as service animals.
Citing Title III of the ADA:
Service animal means any dog that is individually trained to do work or perform tasks for the benefit of an individual with a disability, including a physical, sensory, psychiatric, intellectual, or other mental disability. Other species of animals, whether wild or domestic, trained or untrained, are not service animals for the purposes of this definition. The work or tasks performed by a service animal must be directly related to the handler's disability.
It should be understood that these very capable animals are not pets, but working service animals.
These changes take effect in early 2011. For more information, visit the ADA website.
This is an issue that affects many. Your input is welcome! Please take the poll and add your comments:
Lorrie Shaw is the owner of Professional Pet Sitting as well as a regular pets contributor on AnnArbor.com. She also blogs frequently on More Than Four Walls and enjoys finding solutions regarding pet wellness and behavior as well as social issues related to pets. She can be reached via e-mail.