Posted on
Thu, Feb 10, 2011 : 2:30 a.m.
Noah's Team of Ann Arbor promotes Canine Assistants and service dogs
By Mary Roderique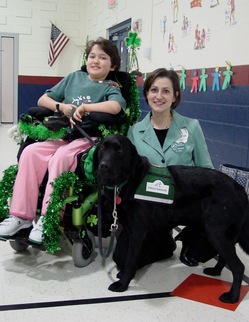 Photo by Blaine Roderique
Sometimes people get confused when I mention that Colby and I run Noah's Team of Ann Arbor. "Wait, isn't your dog named Colby- not Noah?" they ask. At the mention of her name, Colby, a
service dog
and goodwill ambassador with
Canine Assistants
, usually just gives a wag and leaves the explaining to me.
Canine Assistants, based in Milton, Ga., places 75-100 service dogs annually across the country and has more than 20 national volunteer groups called "Noah's Teams," in honor of Noah Elliott Stowers. The Noah's Teams play an important role in supporting Canine Assistants through educational and community service programs. In addition, Noah's Teams do official presentations and outings, meet and assist recipients and help with fundraising.
In Ann Arbor, Colby plays many roles. She presents at schools and in the community about service dogs, hosts storytimes and writing workshops, does animal assisted therapy and is active in other events ranging from Creature Feature at the Ann Arbor Hands-On Museum to the Fourth of July Parade to March is Reading Month events. She also accompanies me and my husband, Blaine Roderique, on daily work and errands, providing casual, personal community education.
Leading Noah's Team of Ann Arbor has been a great experience. Taking care of Colby is wonderful, but the best part has been meeting children and adults who are getting Canine Assistant dogs of their own! Please contact us if you have questions about service dogs.
Mary Roderique leads a Canine Assistants' National Volunteer program, Noah's Team of Ann Arbor with her dog, Colby. She also works as a Writing Workshop Consultant for teachers in Michigan and Indiana.
Colby Roderique works as a Canine Assistant Special Educator and insists that it is she, not Mary, that leads Noah's Team of Ann Arbor. She also enjoys volunteering at 826 Michigan. Colby is available to present about service dogs to schools, businesses, places of worship, and community organizations.