Posted on
Fri, Feb 25, 2011 : 2:50 p.m.
Officer Tony and K-9 Buky reach out to Ypsilanti students though education
By Ronald J Wiedbusch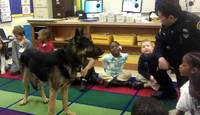 Ronald Wiedbusch | Contributor
Working in the community is always rewarding, primarily when I get the opportunity to do so with others who share my enthusiasm.
I'm privileged to be working with Tony Schembri and his K-9 partner Buky (pronounced BOO-KEY), to help build a bridge between the Ypsilanti Police Department and the students of the Ypsilanti School District though a number of in school events and programs. We created these programs to both promote education and also foster a more positive view of our law enforcement offices in the community to help deter crime before it has a chance to start though education.
The Ypsilanti community was first introduced to its new Police K-9 unit back in November of 2007. The unit is made of up Officer Tony Schembri — a 15 year veteran of the YPD - and his Belgian Shepherd, Buky. Buky has been highly trained in scent tracking, narcotics location, building searches, and helping protect Officer Tony in the line of duty. They are partners both on and off the job, with Buky living with Officer Tony's family at their home when they are not on duty.
The two of them also spend time working with my Assistance Dog, Storm, and I to help bring a new level of interaction between the officers of our community and the students who live there. Most of the students see Officer Tony around the community doing his job, but we wanted to be able to connected with students on a more personal level. This is why I invite Officer Tony and Buky into our schools and set up a number of programs so that the students can get to know them.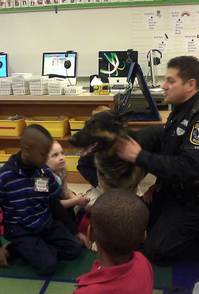 Ronald Wiedbusch | Contributor
We had such a program at Adams S.T.E.M. Academy this past month to introduce our hometown K-9 unit to the students and let them really get to know these two. Officer Tony, Buky, Storm and myself went to a number of classes rooms and meet with the students for a time.
The kids all got to interact with Buky in a fun environment, play with him a bit — and even some got a few wet doggie kisses. Officer Tony answered questions, and talked with the kids about his scent training and how Buky can help find lost family member if anything should even happen.
Officer Tony then went the extra mile — he sat down in one of the far-too-small chairs — and read the students a book. Buky lounged on the floor with Storm and let the students pet and shower him with attention, while Officer Tony read about how a little girl who was too scared to read aloud to anyone found comfort and confidence reading to her family dog.
Officer Tony, much like myself, believes that though reading and education lies the true gateway to a better future, and we stress this as much as we can though reading programs such as this.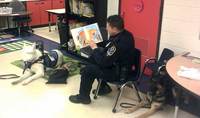 Ronald Wiedbusch | Contributor

Everyone enjoyed their visit, and the students gained a more positive, personal connection with one of the police officers who works in our community.


Officer Tony and I both believe that its these more personal connections are what will help foster a more positive outlook on our law enforcement officers among the community. By getting to know our young people on a one-on-on basis, we hope to remind them that police officers are just like everyone else, and want to help keep the community a safe place to live in.
Ron Wiedbusch is a regular contributor to AnnArbor.com's pets section and works in the community to raise awareness about Assistance and Therapy Dogs and the Americans with Disabilities Act with his certified Assistance, Service, Rescue and Therapy Dog, Storm. The pair can be found at various places in the community throughout the week, and each day patrolling the area around Ypsilanti Public Schools as part of the Safe Schools Program.