Posted on
Wed, Oct 3, 2012 : 6 a.m.
Meet the AnnArbor.com pet of the week: Panzer, a German shepherd who loves people & plenty of playtime
By Deb Kern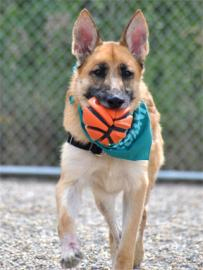 Panzer is a 5-year-old
German Shepherd
that was found as a stray with no identification. He was lucky enough to be brought to the
Humane Society of Huron Valley
where is being cared for until he finds a caring home. Panzer is house-trained and knows many of his basic manners already.
German Shepherds are known for their strength and agility, and are loyal family pets and good guard dogs. They are an ideal choice for many families. They also require regular exercise and grooming to keep their coat healthy. Families that are familiar with the German Shepherd breed will find that Panzer meets most of the traditional characteristics of the breed.
Panzer is a strong guy and would love a big yard to run free in and a family who knows how to have some fun and enjoys daily playtime. Panzer prefers to be the only dog in home, but we think he might do well living in a home with cats. With ears that point to the sky, he is a bright young man that already has some basic training and is ready to learn more. At the end of the day Panzer would love to curl up with you on the couch and indulge in endless amounts of belly rubs.
HSHV is open daily at 11a.m. for adoptions. Please stop by and visit Panzer.
All pets available for adoption are spayed/neutered, up-to-date on their vaccinations, medically and behaviorally evaluated, and they have a microchip ID all included in their low adoption fee. Please make adoption your first option.
The Humane Society of Huron Valley, located in Ann Arbor, was awarded the "Best Large Animal Shelter in Michigan" by the Michigan Pet Fund Alliance, for the second time in a row this year, for saving the most lives. HSHV is an independent 501(c)(3) nonprofit organization and relies solely on donations from businesses and individuals to support our community programs.
HSHV is not affiliated with the Michigan Humane Society or any other humane organization. The mission of HSHV is to promote responsible and compassionate care of all animals in our community.
Deb Kern is the marketing director at HSHV.