Posted on
Tue, Apr 5, 2011 : 2:12 p.m.
Penetrating Laser Therapy offers a holistic approach to healing for pets
By Lorrie Shaw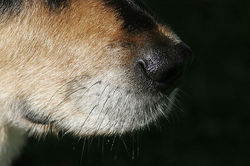 flickr photo courtesy of jason044
The body — regardless of whether it belongs to a human or a pet — has the innate ability to heal itself.
Anyone who has a pet has likely had the experience of monitoring their four-legged friends' minor injuries or painful strains, and for the most part, the body will deal with it on its own, given a little time and/or rest.
When there is a chronic problem, like stubborn wounds or bone injuries that need extra attention, or perhaps when a pet is rehabilitating from injury and the healing process needs a little boost, holistic therapies or treatments can prove to be very useful — especially Class IV Penetrating Laser Therapy.
Treating a pet from a holistic approach might seem a bit unorthodox, but several modalities are used in the mainstream, and being taught as part of the regular curriculum in veterinary colleges, for example, at the University of Florida and Colorado State University.
Dr.Taryn Clark and Dr. Jessica Franklin are both veterinary acupuncturists and elaborate on how Class IV Penetrating Laser Therapy is used in their practice at Ann Arbor Animal Hospital on this week's Ask Your Local Expert segment.
You can read about this and more about pet health on AnnArbor.com's pet section.
Lorrie Shaw is lead pets blogger for AnnArbor.com. Follow her writing and pet adventures around Washtenaw County on Twitter or shoot her an email.