Posted on
Thu, Apr 26, 2012 : 6:19 p.m.
Leading pet food company issues voluntary recall on dry dog food
By Lorrie Shaw
This story has been updated to include specific production codes and "best by" dates.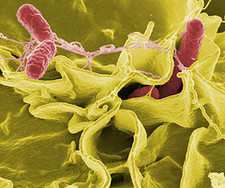 A recall has been issued by a leading
pet food
company earlier this afternoon, and the kibble was distributed in Florida, Kentucky, Massachusetts,
Michigan
, New York, North Carolina, Ohio, Pennsylvania, South Carolina and Virginia, and may have been further distributed to other states.
On April 10, 2012, Diamond Pet Food issued a recall on for a limited number of dry pet food bags.
That recall has been expanded to include specific lots of its Chicken Soup for the Pet Lover's Soul dog food. Laboratory analysis completed by Ohio Department of Agriculture's Consumer Protection Laboratory showed the pet food tested positive for Salmonella contamination.
The specific pet food that has been recalled is Chicken Soup for the Pet Lover's Soul Adult Light Formula and has the following production codes and 'best by' dates:
35 lb - CLF0102B31XCW Best by Date 27/JAN/2013
35 lb - CLF0102B31XCW Best by Date 28/JAN/2013
35 lb - CLF0102B32XWR Best by Date 28/JAN/2013
06 lb - CLF0102B3XALW Best by Date 28/JAN/2013
Salmonella, also referred to as salmonellosis, causes digestive problems, and dogs will typically present with fever, diarrhea, vomiting and weakness. Other symptoms can occur.
Salmonella is a zoonotic disease, meaning that it can be passed to humans as well, so care needs to be taken. Hand washing is a must — even when handling dry pet food that may be contaminated with the bacteria.
Because there are more than 2,000 strains of salmonella, it's the most common cause behind pet product recalls. Very young and very old pets are most susceptible to the bacteria and suffer the effects most profoundly. The most common symptoms associated with salmonella are vomiting, diarrhea and fever. Companion animals presenting with symptoms are treated with IV fluids and antibiotics.
That being said, salmonella can affect other animals — not just the dogs who consume the food. There is risk to humans from handling contaminated pet products. People handling dry pet food and/or treats can become infected with salmonella, especially if they have not thoroughly washed their hands after having contact with the kibble or any surfaces exposed to any contaminated product.
The company notes that no illness have been reported, but if you have food produced under those production codes and "best by" dates, to discard the unused product.
If more in-depth data becomes available from the company, we'll include updates here on the pets section.
You can count on AnnArbor.com to have up-to-date information on pet product related recalls available. Click here to search our archives of previous recalls.
Pet owners, who are unsure if the product they purchased is included in the recall, or who would like replacement product or a refund, may contact the company at 800-442-0402.
Click here for additional information.
Lorrie Shaw is lead pets blogger for AnnArbor.com and owner of Professional Pet Sitting. Shoot her an email, contact her at 734-904-7279 or follow her adventures on Twitter.