Posted on
Wed, Sep 12, 2012 : 5:35 p.m.
Dog food company issues recall citing possible Salmonella contamination
By Lorrie Shaw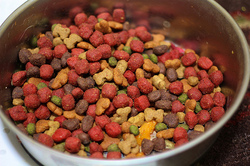 flickr photo by Sha4p
Breeder's Choice Pet Food
has announced a voluntary
pet food recall
involving one of its products due to possible contamination with
Salmonella
bacteria.
The recall involves AvoDerm Natural Lamb Meal and Brown Rice Adult Dog Formula manufactured with 'Best Before' dates of August 28, 2013, August 29, 2013 and August 30, 2013.
Only the 26 pound bags are included in the recall.
The kibble was shipped to the following states: California, Georgia, Illinois, Nevada, Virginia and Washington. The company noted that the product made it as far as their distribution centers, and not onto store shelves.
Salmonella, also referred to as salmonellosis, causes digestive problems, and dogs will typically present with fever, diarrhea, vomiting and weakness. Other symptoms can occur.
Salmonella is a zoonotic disease, meaning that it can be passed to humans as well, so care needs to be taken. Hand washing is a must — even when handling dry pet food that may be contaminated with the bacteria.
Because there are more than 2,000 strains of salmonella, it's the most common cause behind pet product recalls. Very young and very old pets are most susceptible to the bacteria and suffer the effects most profoundly. The most common symptoms associated with salmonella are vomiting, diarrhea and fever. Companion animals presenting with symptoms are treated with IV fluids and antibiotics.
That being said, salmonella can affect other animals — not just the dogs who consume the food. There is risk to humans from handling contaminated pet products. People handling dry pet food and/or treats can become infected with salmonella, especially if they have not thoroughly washed their hands after having contact with the kibble or any surfaces exposed to any contaminated product.
The Food and Drug Administration press release can be viewed by clicking here.
The company notes that no illness have been reported, but if you did manage to purchase an affected bag produced under those 'best by' dates, to discard the unused product.
For further information on this recall, please visit the company's website or call their consumer help line at 1-866-500-6286.
You can count on AnnArbor.com to have up-to-date information on pet product related recalls available. Click here to search our archives of previous recalls.
Lorrie Shaw leads the pets section for AnnArbor.com and is owner of Professional Pet Sitting. Shoot her an email, contact her at 734-904-7279 or follow her adventures on Twitter.