Posted on
Thu, Jul 28, 2011 : 5:33 a.m.
Pet owners cautioned about chicken jerky treats after some dogs in Canada fall ill
By Lorrie Shaw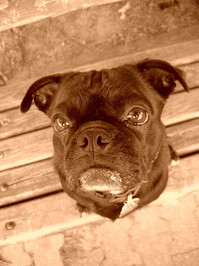 flickr photo courtesy of greencolander
In 2007, a widespread pet food incident resulting in a massive recall affected thousands of pets, some in the worst way possible.
These days, better commuication between ingredient suppliers, manufacturers, distributors, the Food and Drug Administration, veterinarians, and most important of all, more knowledgable and vigilant pet owners, has undoubtedly saved the lives of may pets. Another link in that chain are two very important organizations: the American Veterinary Medical Association and the Canadian Veterinary Medical Association, who work cooperatively.
All of this communication is necessary: when it's evident that there is an issue, it's easier to pinpoint the source and get the word out by way of communication between organizations and recalls released to the public.
This month, the CVMA alerted the AMVA with regard to an issue that had a familiar ring: chicken jerky treats manufactured in China that may be associated with an illness that affects the kidneys of dogs in Canada.
The following statement on the AVMA website details the concern:
The Canadian Veterinary Medical Association recently notified us that several veterinarians in Canada have reported dogs with Fanconi syndrome-like disease that may be associated with the consumption of chicken jerky treats manufactured in China. This mirrors the incidents reported in the United States in 2007 that were investigated by the U.S. Food and Drug Administration (FDA).
Fanconi syndrome causes kidney dysfunction, and results in different complications, which should be taken seriously.
Read the statement released by the AVMA by clicking here.
Be assured that AnnArbor.com will update any recalls on pet consumables as they arise.
Lorrie Shaw is lead pets blogger for AnnArbor.com. Connect with her on Google+ or e-mail her directly.