Posted on
Fri, Mar 29, 2013 : 6 a.m.
Pet hospice can alleviate suffering at the end of life
By Lyssa Alexander, DVM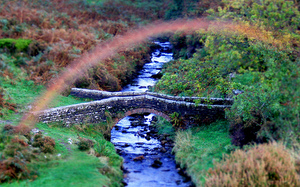 Photo by Flickr User NatureClip
End of life decisions
are always hard. This is true in both human medicine and animal medicine. Our pets are susceptible to the entire spectrum of debilitating and terminal conditions.
In veterinary medicine we have the option to perform euthanasia in order to end suffering. Euthanasia is a blessing and an indispensable tool; however, it carries with it the heavy burden of decision. In my career I have seen a wide variety of emotional reactions to the concept of euthanasia. It is important for a veterinarian to be able to adapt to the vastly different preferences owners have when making end of life decisions for their pets.
My coworker, Dr. Lewis, devised a set of five questions to help owners decide when it's time to euthanize. The first three questions are all about the pet:
Are they eating and drinking?
Are they sleeping through the night?
Can they do any of the activities that they enjoy?
These questions are meant to assess the pet's quality of life in a well-rounded manner.
The fourth question is the role of the veterinarian. "Is there anything we can do to improve the situation?" The answer to this question is often unclear, but we all work together to make our best assessment.
The last question is "What is the impact on the family?" Is there a reason that we need to stop earlier or to keep going longer than we might based on our medical assessment alone? This covers a large range of factors such as the emotional preparedness of the owners, finances, and ability to treat.
When my own family dog became terminally ill a year ago, I got an up close look at the different ways in which people approach a pet's death. My husband and I have been through the loss of many pets before. We have a similar level of comfort with euthanasia and the decisions were fairly clear.
However, when my family dog became ill, my parents had vastly different opinions on how and when to euthanize . Situations like these can create a lot of tension during a time when a family is already under considerable stress. For many of us, the decision to euthanize comes when a pet is suffering and the prognosis for recovery with an achievable level of treatment is poor. However, there is also room for a hospice-like approach in our patients. This is especially important for owner's who are less comfortable with euthanasia.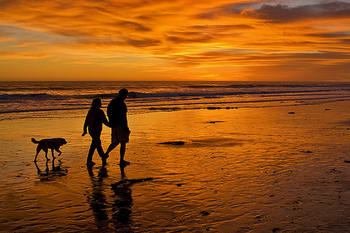 Photo by Flickr User Damian Gadal
Pet hospice
has a large number of meanings in veterinary medicine. In general, hospice is an approach to treating pets who are terminally ill in a manner that comprehensively attends to their needs for comfort, but without attempt to cure their disease or prolong their life expectancy. There are a few pet hospice centers in the country, but the vast majority is done in the home. This is for financial and availability reasons, but also to minimize the pets' levels of stress.
The mainstay of hospice care is to alleviate suffering as much as possible. Pain and nausea must be controlled. This is often accomplished through medications, but can also be supplemented through a wide variety of modalities such as massage, hot packs and alternative therapies.
Nursing care must be provided. This involves making sure that there is a warm and comfortable environment for the pet. Some advanced nursing care cases require assistance with bowl and urine function and management of skin wounds. Calorie and fluid needs are often incorporated into the hospice plan as well, but only to the level that a pet can tolerate them.
Another important part of veterinary hospice care is a thorough discussion of how and when to euthanize and how to respond to anticipated changes in the pet's condition. Caring for a terminally ill and debilitated pet can be very taxing and sometimes expensive. However, with the right pet and owner, the experience can be extremely rewarding.
Photo by Flickr User beccaxsos
Pet hospice is not a good option in all situations. The times when I strongly recommend against protracted care are when an animal is experiencing pain, anxiety or respiratory distress that cannot be controlled. Hospice is also not recommended if an owner has to be away from the pet for extended periods of time. Because a terminally ill animals' condition can change rapidly, frequency care and monitoring is necessary. The goal of hospice is not to keep pets alive indefinitely, but to provide a comfortable environment for them to spend their last days with their families.
I have been through human hospice with my own family. Though it is difficult to accept the death of a loved one, there can be a huge amount of relief when beginning hospice. By making the decision to change your treatment philosophy, a large amount of stress and uncertainty is lifted.
Hospice also allows for a chance to spend quality time with a loved one and begin the grieving process in a healthy way. I believe that this same relief can be felt when taking this approach for our pets.
As a veterinarian, my first goal is always to try to prevent, ameliorate and cure disease. However, there are many ways in which we can enrich the lives of our pets, even when we know we cannot save them.
Hospice care is not right for all pets and all owners. The conditions of care are as individual as the pets and owners themselves. However a hospice approach can be a rich part of the veterinary care experience.
Lyssa Alexander, DVM treats small and exotic animals and pocket pets at All Creatures Animal Clinic.