Posted on
Mon, Jan 31, 2011 : 9:26 a.m.
Pet Peek fence window offers dogs safety along with a view
By Lorrie Shaw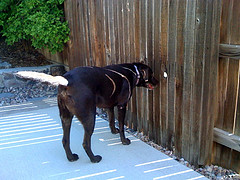 flickr photo courtesy of cogdogblog
What pooch wouldn't want to see what's going on on the other side of the privacy fence while they're in the backyard?
Granted, dogs get into all kinds of mischief due to their curious nature, especially outdoors, and one company hopes to give both dogs and their owners what they both want.
The Best Friends Care LLC company has a nifty idea: a pop-out acrylic window that you install in the fence. The Pet Peek fence window is available online and runs about $30. The gadget might help curb a dogs' naughty behavior, like digging under the fence or in some cases, fence jumping.
The dome-shaped window is 9.5 inches in diameter and five inches in depth to accommodate a dogs snout and comes with all necessary hardware for easy do-it-yourself installation into wooden or vinyl fences.
Remember Rebel, the 8-month-old German Shepherd from Desert Hot Springs, Calif. whose curiosity got the better of him a few weeks ago?
Rebel was in the backyard, and poked his head through a hole in a concrete wall in his backyard —and got stuck.
The company sent complementary Pet Peek windows to Officer James Huffman of Riverside County Animal Services, who helped to free Rebel —and of course, Rebel's owner.
Here's a quick video explaining how the poor dog was safely freed from his predicament.
Lorrie Shaw is owner of Professional Pet Sitting and a regular contributor to AnnArbor.com's pet section. Live vicariously through her pet adventures on Twitter or contact her via e-mail.