Posted on
Fri, Feb 4, 2011 : 9:33 a.m.
Pet Photo Friday: Enjoying the snow, staying warm
By Lorrie Shaw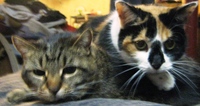 Winter
is a unique time of year, and the recent
snowstorm
makes for even more interesting
pet photos
.
Whether our furry friends prefer to stay indoors and cuddle — or in the case of one stunning pooch, love the cold weather — you're sure to enjoy.
In the photos in this weeks' series, you'll see both sides of the coin.
You're invited to email a photo of your pet to ppsa2mi@gmail.com any time for our weekly Pet Photo Friday feature. An upcoming theme: unlikely pet buddies! Do you have pets who get along famously, but seem like an unlikely duo or group?
Be sure to include the name of the animal, as well as their age and city or township of residence in your e-mail.
We put the week's photos into a slideshow, publish and promote each Friday here in the Pets section.
Lorrie Shaw is a regular conrtibutor to AnnArbor.com's pets section. Follow her pet adventures on Twitter.