pets:

Pet Photo Friday is just around the corner - send in your submissions

Posted on Wed, Mar 30, 2011 : 5:54 a.m.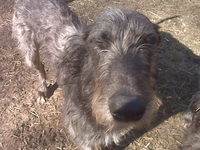 Lorrie Shaw / Contributor

Each week, we are so glad to see the enthusiasm that our readers have for sharing their photos of their beloved pets — and their ability to capture the essence of each of them.

As everyone who lives here in Michigan knows, the weather this time of year can be a little fickle. With the snow now gone, as well as most of the mud, it's made for some very pleasant moments this past week for many families.

A part of those moments might include plenty of photo opportunities, as always.

Would you like to participate in this week's Pet Photo Friday? You're invited to email a photo of your pet, just being themselves, to ppsa2mi@gmail.com any time for the weekly feature.

Be sure to include the name of the animal, as well as their age and city or township of residence in your email. Photos should be 600 pixels wide and in .jpg format.

We put the week's photos into a slideshow, publish and promote each Friday here in the Pets section.