Posted on
Fri, Mar 4, 2011 : 6:45 a.m.
Pet Photo Friday: Meet this weeks' stars
By Lorrie Shaw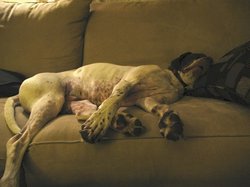 What better way to end your week than with a smile?
In continuing our weekly series, Pet Photo Friday, we offer up a fun slideshow of pets and this one is sure to make you giggle, too. Over the past week, our pet-loving readers sent in photographs of their pets, showing us a slice of life with their four-legged family members.
Next week will be a little different - we'll be celebrating senior pets!
Often, older pets are a part of the pet population that doesn't get enough positive press, and there are just too many neat things about being in their midst to ignore.
We know that for some people, having an older pet is the bee's knees! There is something about having one that is special, regardless of the breed.
Do you have a senior companion animal in your family that you want to show off? Taking part in our special Pet Photo Friday feature is a snap - simply email a photo of your pet to ppsa2mi@gmail.com, any time during the week. Please include the animal's name, age, and city or township of residence in your email. Be sure that your photos are 600 pixels wide and in .jpg format.
We'll put the photos into a slideshow series, publish and promote on Friday here in the Pets section.
Lorrie Shaw is lead pets blogger for AnnArbor.com. Tag along with her daily pet adventures on Twitter @psa2