More Than Four Walls
Pets:

Pet food bowls recalled because of 'potential' contamination by radioactive material

Posted on Sat, Aug 11, 2012 : 1:35 p.m.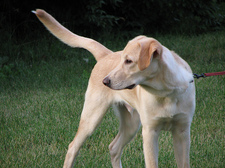 flickr photo by tonamel
Most recalls that you'll read about here on the pets section have to do with pet consumables — food and treats for pets like dogs, cats, birds and even pocket pets and reptiles.
Usually, the recalls are issued for contaminants like chemicals or pathogens, like Salmonella. Recalls can be issued for reasons that you might not expect, as in the case of the Pedigree dog food recall that was made in June because of small, blue pieces of plastic in canned food that could have posed a choking risk.
One recent recall is, by far, one of the most bizarre: Stainless steel pet food bowls made by a foreign manufacturer and shipped for sale here in the United States may have been contaminated with radioactive material.
The issue was discovered by Customs and Border Protection agents during a routine import screening of a cargo container destined for a popular pet retail store, Petco. That container was held at the port and never reached its destination.
A second container had previously cleared Customs and reached Petco's distribution network in Illinois.
Later, state inspectors at a Petco store in Chicago found that two bowls had been contaminated, according to a the Illinois Emergency Management Agency (IEMA).
Chicago's Herald News reported that the bowls contained traces of cobalt-60, a radioactive isotope that has several uses, one of which is to detect structural flaws in products.
The IEMA notes that the highest radiation level detect was so low that holding one of the bowls for about six and a half days would be equivalent to an X-ray scan.
"These bowls do not pose an immediate health risk, but we always want to prevent unnecessary exposure to radiation," said IEMA Director Jonathon Monken.
The bowls have since been removed from shelves, and state and federal officials are working with Petco officials to isolate any contaminated bowls, the IEMA said.
"We will continue to work closely with the U.S. Nuclear Regulatory Commission and store officials until we confirm that all items have been located and secured," Monken said.
Stainless steel bowls sold in other states could be affected as well, as the company indicated in a statement on their website:
Petco has notified the Nuclear Regulatory Commission and a number of state governments, and is in the process of notifying other appropriate states as we continue to collect and verify information.
Stainless steel bowls with the following SKU and product description are indicated in the recall:
SKU 1047493 - PETC-3.75C DEEP TWO TONE NOTIP 9.25-inch diameter; 3.75 cup capacity
SKU 1386956 - PETC-3.5C NO-TIP SS HAMMRD BWL 9-inch diameter; 3.5 cup capacity
SKU 1047477 - PETC-7C TWO TONE NONTIP BOWL 9-inch diameter; 7 cup capacity
The IEMA urges anyone who believes they purchased a contaminated bowl should contact the location that they bought it from.
Click here to read the complete statement on the Petco website.
You can count on AnnArbor.com to offer up-to-date information on pet product related recalls. Search our archives of previous recalls here.