Posted on
Mon, Nov 12, 2012 : 10:30 a.m.
Can examining 'odd couple' animal relationships give us a fresh look into pet behavior?
By Lorrie Shaw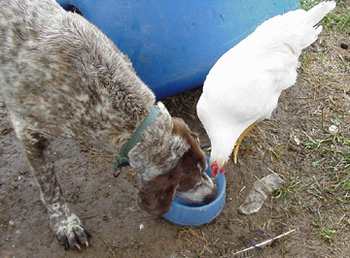 flickr photo by Rikki's Refuge
This past week, I ran across an article about a kitten that had
wandered into a baboon enclosure
and as far as the staff could tell, it hadn't wanted to leave. The
baboon
"adopted" the young
cat
, so to speak, even taking to grooming it and not letting it out of its sight — or so that's what is being depicted. (Because the footage is limited, it's hard to tell if what is being reported is indeed true.)
Also this week, I was lucky enough to catch an episode of Nature that broached the topic of unlikely animal relationships.
Nature: Animal Odd Couples examined the positive relationships between creatures like a dog and a deer, a coyote and a lion, a goat and a horse, and others.
The relationships that were featured on the program were all unique but did have a common thread: they were forged because of human influence in one way or another. Each, with the exception of one, were in a zoo or animal sanctuary setting.
The humans involved had a great understanding of animal behavior and allowed the creatures to find their respective ways and adapt without meddling.
On any given week, I'll be in the midst of several species whether it be dogs, cats, birds of all kinds, reptiles and even chickens. Sometimes there will be be multiple species in the same household, and most often the animals figure out ways not only to get along but demonstrate that they actually enjoy each other's company. Some of the animals can be found snuggling close together, eating or drinking from the same bowl and playing games with each other. (The latter is an incredible aspect of their relationship to observe.)
And why wouldn't they? They live in environments where they are able to make choices about who they interact with, for how long and in what capacity. I think that observing cross-species relationships just might offer a fresh look at complex emotions, friendships and might help clarify how our domesticated pets navigate daily life with each other and us.
All of that being said, I think that two things need to be emphasized -— the care that we need to exercise in how we interpret our animal's behavior when they are interacting with us and each other, and how much we influence them.
In examining animal relationships and emotions, tossing out any biases that we have is essential, and that includes anthropomorphizing them.
In spending time with so many animals over the years, it's clear to me that they are affected by the changes that occur in their lives with their housemates, even if they express how they react to them or accept them differently than we do.
Problems often begin because as humans, we like to think that we have the market cornered when it comes to emotions and compassion.
The fact is, animals do a great job of living together so long as we humans are not mucking things up for them.
Only when we are open to seeing animals more honestly — including examining things like what "dominance" really means, and understanding the repercussions of anthropomorphizing an animal's behavior - will we be able to understand them better.
Lorrie Shaw leads the pets section for AnnArbor.com and is a professional pet sitter.Connect with her on Google + or e-mail her directly.