Posted on
Wed, Apr 4, 2012 : 5:15 a.m.
Show off your pets with their best buddies this week on Pet Photo Friday
By Lorrie Shaw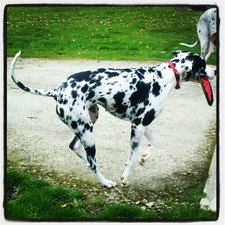 Flickr photo by ppsa2mi
We've learned a lot about animal behavior and how humans and their pets relate to each other in recent years, and it's no wonder: The numbers of families with companion animals continues to climb.
There is no shortage of studies, data and articles that focus on the way that our bonds have been forged with pets, but what about the relationships between pets themselves?
I've found little evidence that this topic is focused on as much.
An interesting article from The Bark came out last winter that broaches the subject, "Do dogs need friends?"
As one who works with pets on a daily basis, I would answer with a resounding "yes!"
Sure there are some pets who are naturally inclined to not engage with other animals as much, but for the most part, dogs are especially open to engaging with another animal pal.
I can tell you from experience that in many households, if there are two dogs and I'm engaging them in play, there is at least one who has a prefers to initiate a game with the other dog instead, regardless of how enticing the offer I'm putting before them.
My conclusion: There really is no substitute for another canine.
That being said, almost everyone I know can attest that their pets enjoy the company of those in their species, and often the company of animals of another species!
Knowing that there are many fun-loving pets living in and around our area, we're anxious to see what they've been up to. The theme for this week's Pet Photo Friday is "best pet buddies."
Why not submit a favorite photo of your pet with their pal(s)?
What fun activities did your pets and their BFFs get to enjoy this week? A hike, or a play date perhaps, or a trip to the dog park?
Do your cats enjoy a good game of play fighting?
Any pet or animal in the family is welcome in the slideshow we feature each Friday.
Participating in this fun feature is easy — simply include your companion animal's name, age and city or township of residence in your email. Be sure that your photos are 1,200 pixels wide and in .jpg format.
We put the week's photos into a slideshow, publish it and promote it each Friday here in the Pets section. Check out past slideshows here.
Lorrie Shaw leads the pets section for AnnArbor.com. Catch her daily dog walking and pet sitting adventures or email her directly and subscribe to AnnArbor.com's email newsletters.