Posted on
Mon, Mar 11, 2013 : 6 a.m.
'Green' cleaning products are a good alternative, but care still needs to be taken when using them around pets
By Lorrie Shaw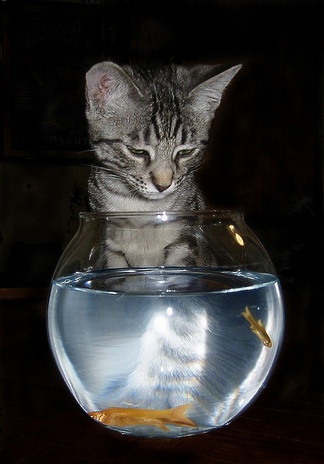 Flickr photo by admiller
Spring is on the minds of most at this time of year, as is the urge to open up the windows and give our homes a really good cleaning after the long winter.
For many households, the use of environmentally-friendly cleaning supplies has been the trend for several years, and using these items has been easy with the flood of products now available on the market.
This is great for those with pets; it's a boon because we want to keep them safe.
Although green cleaning products are a better choice in many ways than traditional supplies, they still need to be used with caution around pets.
One rule of thumb to follow when it comes to pets is pretty simple: if the label says "keep out of reach of children," the same applies to our furry and feathered friends.
For some people, making their own cleaning solutions makes sense: it's more economical, for one, and it's easy. But these homemade solutions don't come with reminders about the care that needs to be used with them. And sometimes, because the ingredients used are plant-based, they are thought of as being completely safe — something that clinicians and veterinary toxicologists stress is a mistake.
"People expose their animals without even realizing the risk," said Karl Jandrey, DVM, assistant professor of Clinical Small Animal Emergency & Intensive Care at Veterinary Medical Teaching Hospital, University of California, Davis.
"That's the most common thing that happens when you come to our emergency room — the clients put their pets at risk because they were unaware of how significant the damage could be."
Cats are especially sensitive to these cleaning products.
"Each intoxicating product has different concentrations, and each dog or cat, each species, has a different sensitivity to that product. So what might be intoxicating to a dog is really, really intoxicating to a cat because cats might be more sensitive," Jandrey adds.
Essential oils are a popular ingredient in "green" products on the market, and they are quite effective. Oils from citrus like orange, lemon and even herbs like peppermint can cause stomach upset in animals, though.
Tea tree oil can be of special concern. When absorbed through the skin, loss of coordination, muscle weakness, collapse and liver damage. If the oil is ingested, vomiting, diarrhea and, sometimes seizures can occur. If it's inhaled, aspiration pneumonia is possible.
Regardless of the products that you prefer, using them mindfully is the best way to avoid any problems:
Keep pets away from an area being cleaned.
Do not use sprays directly on pets.
Rinse all washable areas well after cleaning, and let dry before allowing pets to come into contact with them.
Use care when laundering your pet's bedding or washable toys — and consider avoiding the use fabric softener (especially dryer sheets).
Consider using or making "unscented" versions of your favorite products.
If you suspect that your pet, regardless of the species, has become ill from any household products, time is not on your side, unfortunately. Getting the help of a qualified critical care veterinarian is essential. Here in the Ann Arbor area, contact Ann Arbor Animal Hospital at 734-662-4474.
Click here to get the more information on the lesser-known dangers of "green" products, including "pet-friendly" antifreeze.
Lorrie Shaw leads the pets section for AnnArbor.com and owner of Professional Pet Sitting. Shoot her an email, contact her at 734-904-7279 or follow her adventures on Twitter.