Posted on
Wed, Jul 3, 2013 : 6 a.m.
Pet-related mishaps are often cited when filing insurance claims on smartphones, but reducing the need may get easier
By Lorrie Shaw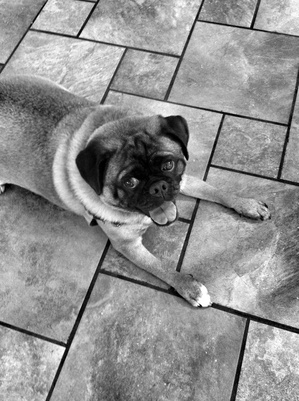 Lorrie Shaw | Contributor
Those who know me well often joke that my
smartphone
is glued to me. I take the ribbing in stride, of course — it's probably the most indispensable tool that I use everyday no matter what I'm doing.
Imagine my panic when I realized that my iPhone had been misplaced and left out in one of the heavy rainstorms this past week.
Our electronic gadgets keep us connected and up-to-date on so many things — they're everywhere! And interestingly enough, the results of a recent study by electronics warranty provider SquareTrade indicate that their demise is often at the hands — errr... sometimes the teeth of — our pets.
I've had more than one client indicate their dogs have a penchant for using their smartphones as chew toys (according to SquareTrade, two-thirds of electronic warranty claims account for this reason). Twenty-one percent of accidents in the study stemmed from a human dropping the device, caused by a pet being underfoot or knocking the device out of the human's hands.
One in six pet owners surveyed noted their beloved creature has either urinated or vomited on their gadget, causing damage.
It seems no matter what is at the root of the damage, there are groups of pets who have a higher propensity to cause these accidents to happen.
On the SquareTrade blog, they cite that male dogs are 50 percent more likely than their female counterparts to cause damage to gadgets, and overweight animal companions also are more likely to cause a pet accident.
I think it's fair to say that because of my increased contact with various species of animals everyday, I'm more likely to have a potential mishap with my gadgets — and yes, I've had my share. Whether I'm sending daily video reports or responding to clients or updating my ever-changing schedule, I almost always have my iPhone handy.
But, let's face it: pets are curious, rough and tumble and for some — especially dogs — smartphones may look like a chew toy. (It's an honest mistake, right?)
As I write this post on my iPad, I'm mindfully sitting down on a soft sofa with nary a mug of tea or rambunctious creature in sight.
Because of the active lifestyle I lead and my need to have my smartphone accessible, it makes sense to have a protective case (and insurance on said device) as an added measure of protection. To be honest, I don't really care what my phone looks like. It doesn't do me much good to have a glam phone if it's mangled, and it's only troublesome if the screen is cracked. I need functionality!
I have had good luck with the OtterBox on both my Droid and iPhone. It's offered great protection from breakage or the elements when my phone is knocked out of my hand by an overzealous dog (even in wet snow!) or if I accidentally drop it when I have my hands full.
I've had no incidents of my iPhone being used as a chew toy, thankfully, but I'm sure that any good protective case would certainly buy a little time should even the most enthusiastic dog get his teeth on it.
DamnGeeky.com wrote on their blog earlier this year about their best picks for smartphone cases.
For those of you who shun the use of a protective case, BlueBugle.org offered their recommendations for the most durable smartphones, and ReadWrite.com talks about efforts to build the ultimate smartphone: water and smash-proof, aesthetically pleasing & best of all, affordable.
I'm down with that!
Lorrie Shaw leads the pets section for AnnArbor.com. Catch her daily dog walking and pet sitting adventures or email her directly and subscribe to AnnArbor.com's email newsletters.