Posted on
Mon, Feb 25, 2013 : 6 a.m.
Veterinary medicine may be feeling the effects of 'Obamacare'
By Lorrie Shaw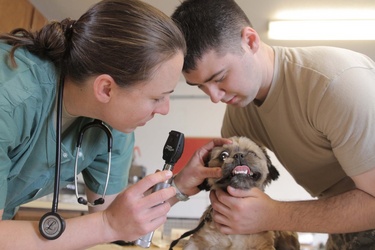 Flickr photo by Army Medicine
Some pet owners find it challenging to afford
veterinary care
for their companion animals. Often, clinicians can find ways to help their clients not only make the best decisions to get an appropriate preventative care or treatment plan in place, but also to make it as affordable as possible.
Veterinarians may be finding that a little more difficult to do these days, and the reason might surprise you: the Patient Protection and Affordable Care Act, or as it's been referred to, 'Obamacare'.
How is this possible? A 2.3 percent excise tax has been imposed on certain medical devices, like anesthesia equipment, surgical tools and IV pumps, which are used on both humans and animals.
Medical devices used only on animals are exempt from the tax.
With the increased fees paid for necessary equipment, clinicians may find it necessary to increase their fees.
Dr. Mark Lutschaunig of the American Veterinary Medical Association notes, "Congress never intended for this tax to impact veterinarian medicine and unfortunately it has, and I think that's very unfortunate that veterinarian medicine now is subsidizing human health care."
An unsuccessful effort was made to exclude vets from being impacted by the dual use tax.
One expert isn't so convinced that things will be as dire as they seem.
Veterinary consultant Gary Glassman, CPA, of Burzenski and Co. in New Haven, Conn. indicates that the additional cost of a piece of equipment may be marginal if based on a procedural basis.
"I do not believe it will eliminate the veterinarian's decision to buy or not buy a needed piece of equipment to carry on the trade of providing required medical care," Glassman says.
Read more about the tax on DVM360.com by clicking here.
Lorrie Shaw leads the pets section for AnnArbor.com and owner of Professional Pet Sitting. Shoot her an email, contact her at 734-904-7279 or follow her adventures on Twitter.