Posted on
Mon, Nov 28, 2011 : 12:59 p.m.
When pet owners work from home, it can be a challenge, but reinforcing good behavior can produce a win-win situation
By Lorrie Shaw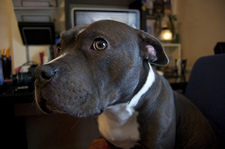 flickr photo by JohnONolan
In times past, the only way to be able to handle the responsibilities of a career was to be in a physical office shared with others, away from home. But with the help of technology and a lot of self-discipline, the concept of how we work has been redefined.
The ever-growing option of having the flexibility to work from home — full or part time — allows us to legislate our time better and is a boon to most of us.
All of this happens at an ideal time, as we're in a real shift in our society: We have a heightened sense of family and community.
Along with the responsibilities that a career brings, many people are sandwiched between the task of raising kids while also showing their parents a bit more consideration. So many of us live in different towns than our parents, and that can be a source of angst in trying to manage it all. The load can be lightened for those who can work from home at least part of the time.
Although I don't have children (I know that it's a huge responsibility) there is one aspect of my life where much of my attention is concentrated, and according to statistics, it's true for thousands of other people — sharing life with pets. Pets add so much to our lives, and dogs and cats, primarily, are very much a part of the family.
We love their company, and we want to spend as much time with them as we can. Working from home seems like the perfect arrangement, and in many ways, it is.
But one misconception about working at home when you've got pets usually poses an issue, and it can spur behavior problems.
Most people have the impression that pets sleep their days away while we are gone tending to our work responsibilities, and while that might be true when we're not there, when we are home, it's a different story altogether. Let's face it. Pets are as social as we are, and they love it when their people are home — regardless if we are able to focus solely on them or not.
I love being home to work at least part of the time, whether I'm writing or handling administrative duties. But, as so many of you can relate to, being productive in the midst of pets can prove to be a challenge: the startling bark of a dog at the least opportune time (usually on an important phone call), the insistence of a not-so-subtle feline who will either hop on your lap as you are trying to concentrate — or Heaven forbid, the keyboard as you're trying to work on your laptop — or even let out a scratchy kitty-howl to get your attention.
(I'm imagining you nodding your head in agreement.)
Kristyn Lak Miller talks about her work-at-home experience in the piece, "The Dog Ate My Home Work: Pets as Co-Workers."
So yes, we've tried acknowledging them, tossing a ball from the desk chair, letting a frisky feline sit on our lap as we work. But, pets often know when our attention is not fully on them, and the behavior that we are attempting to extinguish just escalates.

It's understandable. We cannot expect pets to understand that it's not a good time to stop what we are doing to give them their undivided attention. But take heart — there are some ideas that can help make everyone in the house happy, while not reinforcing unwanted behavior and keeping productivity high.
Communicating to your pet what you need almost always comes by way of not what you say, but what you do. And, as Sophia Yin, DVM says, how you handle these situations can make all of the difference.
You see, the old adage "I'd rather be praised than punished, but punished than ignored," definitely holds true with pets, just as it does with kids, believe it or not. Case in point: your dog barks when you're trying to work at your desk. You look at him, or pet him to quiet him, or yell at him to stop. You just caved to his demand for attention!
"When animals want your attention, the best thing to do is to make it clear that they're not going to get your attention for that bad behavior," Yin explains.
""Ideally, if your dog barks at you and is standing right in front of you, you would turn your head, wait until the dog is quiet for maybe five seconds and then reward the dog for quiet behavior with treats or petting. You need to reward it shortly thereafter for continuing to be quiet."
This means consistency on the part of the human, something that is essential in helping a pet understand a new skill or what is expected of them.
Local behaviorist Camille Ward expanded on the concept of positive reinforcement in a previous post that I wrote on AnnArbor.com.
And, as Yin details, this approach can be used with felines, too. In essence, rewarding good behavior — with treats, praise or a favorite game — will foster the behavior into being a habit.
Giving pets their own space in your work area can help establish boundaries as well as keeping them happy. Setting up a crate for your dog, or in the case of both species, a pet bed, will let them know where they are allowed to hang out when you're in work mode.
As with any pet, physical activity is a must to let them burn off extra energy that they might be misplacing when they try to get your attention during your work periods.
Cats can benefit from a game of hide and seek in the house, or chasing a cat toy that you toss around. Before your work day begins, consider taking your dog out for a vigorous game of fetch or tug-of-war — they love the engagement.
Your time spent one-on-one with your pet is invaluable to them.
A walk is perfect for dogs to expel energy and stimulate their minds, so before you settle in at your work station — or even as a mid-day break — take time out for an outdoor adventure. No time to get out? Consider the services of a dog walker, even periodically to get your canine out for an outdoor break.
While you're working, you might want to provide toys that encourage independent play, that are stimulating and safe, like the ones that professionals (myself included) recommend. Click here to get the scoop on interest-specific toys for pets, like the Kibble Nibble for dogs.
For more on the topic of working from home, click here.
Lorrie Shaw is lead pets blogger for AnnArbor.com. Catch her daily dog walking and pet sitting adventures or email her directly.