Posted on
Thu, Jun 28, 2012 : 6 a.m.
Homebrewing is a fun activity, but one ingredient can be deadly to pets
By Lorrie Shaw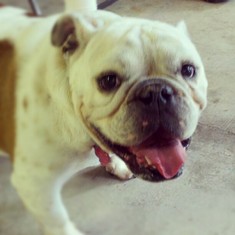 Lorrie Shaw | Contributor
I was pretty geeked to embark on a new endeavor recently with my Dad, my brother and my better half, Chris. It started out with a simple idea: My sibling and I wanted an activity that we could participate with our Dad, and homebrewing seemed really fun.
We were of course thrilled when Dad saw the homebrewing kit that we picked up for him at Adventures in Homebrewing here in Ann Arbor and showed his enthusiasm.
We wanted to start as soon as possible, so I wanted to learn as much as I could to prepare for "Brewing Day."
Of course, I did a lot of research on the process and. in doing so, consulted two friends, AnnArbor.com beer bloggers Patti Smith and David Bardallis,who proved to be more than helpful.
As with a lot of fellow newbie homebrewers, I felt ready to go after all of the research and mentorship, but was taken aback by one specific aspect of homebrewing that I ran across that could potentially have caused our dogs some serious harm: Spent hops.
After browsing through a copy of Zymurgy (a publication put out by the American Homebrewers Association), I saw a submission in the section called "Dear Professor."
The topic that caught my attention had to do with spent hops and their toxicity to dogs — and possibly cats.
I learned that spent hops, when consumed by dogs, can cause a serious illness that has symptoms that are on par with malignant hyperthermia, an illness that is characterized by high body temperature, restlessness, panting, vomiting, signs of abdominal pain and seizures.
Some dogs, like greyhounds, retrievers, Dobermans and northern breeds, are genetically predisposed to developing it and can be more easily affected, as referenced by PubMed.
I was glad that I learned about the issue, because on brewing day, my brother brought his English bulldog, Earl, along for the fun. He became the unofficial brewing day mascot. (To some dogs, hops are especially tasty!)
So, how can something as seemingly innocuous as spent hops — something quite natural — be so deadly?
The exact mechanism of the component isn't known, but it's theorized that when the hops are ingested, the essential oils and resins left behind are a culprit.
One of the biggest problems is that many homebrewers ditch their spent hops in composting bins (they make for a great compost addition), where dogs could easily get a hold of them. For that reason, pet owners are encouraged to use care when deciding what to do with the hops once they are finished with them.
If you suspect that your pet has ingested hops, it's vital that you pay close attention to them and then contact the Pet Poison Helpline at 800-213-6680, your clinician or emergency animal hospital immediately. From there, you can convey what events lead up to that time, so that proper treatment can be administered.
Without treatment, an affected dog can die within six hours.
Charlie Papazian, author of "The Complete Joy of Homebrewing" and founder of the American Homebrewers Association and the Association of Brewers, wrote a piece for Examiner.com regarding the topic, which you can read by clicking here.
The Pet Poison Helpline details more about the toxicity of this ingredient, which can be accessed by clicking here.
One important aspect that I need to mention is that most starter kits — like the one that we used — contain pelleted hops, which are thought to less harmful than the dried variety. In any case, care still needs to be taken (as evidenced on the directives that were enclosed with the ingredient kit).
Lorrie Shaw leads the pets section for AnnArbor.com. Catch her daily dog walking and pet sitting adventures or email her directly and subscribe to AnnArbor.com's email newsletters.