Posted on
Tue, Nov 1, 2011 : 5:23 a.m.
Meet the Ann Arbor.com Adoptable Pet of the Week: Gemini
By Deb Kern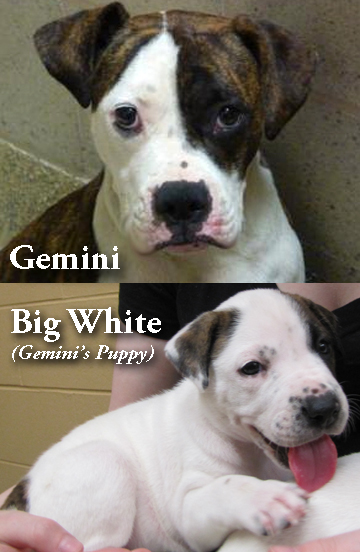 Photos by Ann Edwards
The Humane Society of Huron Valley (HSHV) is blessed to have hundreds of active volunteers that provide daily support to the homeless pets in our community. From
dog
walking, to
cat
comforting, cleaning kennels and everything in between,
our volunteers
are truly an invaluable group of caring people.
HSHV is so successful in part because of all the services our volunteers provide.
Some of our volunteers act as foster families, and after you read about the current pet of the week, you'll learn why they are so vital.
Gemini, a 2-year-old boxer mix, came to HSHV with eight infant puppies. She and her entire litter needed a quiet place to stay until the babies were weaned.
One of our fosters families has been caring for Gemini and her pups for three weeks, and now this wonderful mama is ready to be adopted. Her puppies will also be ready for new homes by this weekend. (Please check our website to see daily updates on which pets are available.)
Gemini is affectionate and smart. She has already learned the command "sit" in her foster home. She is eager to please and would really benefit from continuing her basic manners training with her new family.
Gemini's past is unknown, but, from what we can tell, she gets attached to her people quickly and will sit next to you just waiting to get petted. Because we don't know anything about her young life, we think a family that has had large dog experience, and one that has children over 12 years of age, would be the best fit for this lovely companion.
The Humane Society of Huron Valley, located in Ann Arbor, was recently awarded the 'Best Large Animal Shelter in Michigan" by the Michigan Pet Fund Alliance for saving the most lives. HSHV is an independent 501(c)(3) nonprofit organization and relies solely on donations from businesses and individuals to support our community programs.
HSHV is not affiliated with the Michigan Humane Society or any other humane organization. The mission of HSHV is to promote responsible and compassionate care of all animals in our community.
Deb Kern is the Marketing Director at HSHV.