Posted on
Wed, Aug 15, 2012 : 6 a.m.
Tips for helping a reluctant dog overcome the fear of water and learn to swim
By Julia Levitt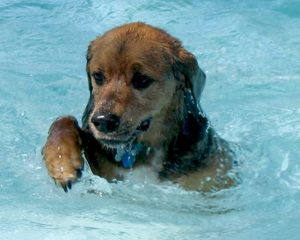 Photo courtesy of Albany.com
You love going to the lake, and you would love to bring your dog, but you've got a problem. Your dog is afraid of the water.
But how could that be — when you have a Golden Retriever or a Labrador Retriever or a Portuguese Water Dog? My Portuguese Water Dog — bred to jump into the water to retrieve nets for fishermen — was not interested in swimming at all! My Soft-Coated Wheaten Terrier — terriers are not known for their swimming skills — loved to swim!
How do you teach a dog to swim? Contrary to what some people say, don't throw your dog into the water and expect it to swim. Yes, just like people, some dogs can plunge in and swim, but others need to be taught — like I had to teach my Portuguese Water Dog to swim.
One of the most important things to remember about teaching your dog to swim is rather counterintuitive — you must first assure that the dog is able to get out of the water! Now you might be asking, isn't this backward? No — once you have asked the dog to get into the water, it must be able to get out on its own so that it feels less afraid. If you toss your dog into an above ground pool, there is no way for the dog to get out, and that could be trouble.
Start by introducing your dog to the water. Whether you have a big dog or a small dog, start with a kiddie wading pool. Fill it with water and throw a toy into it. A treat is good too. Please put a leash on your dog so it does not get other ideas and walk off!
If your dog is not motivated by toys, tempt your dog by holding the treat close — very close — to its nose and wait until the dog takes one step into the pool. When it has its two front paws in the pool, give the dog the treat. With a small dog, please cut a little notch at the side of the pool for the dog to exit when you are done with this exercise. Remember — the dog must be able to get out of the pool!
Here are some things to avoid:
Do not yell at the dog to get in the pool. You will increase the anxiety the dog already feels about getting in the water.
Do not drag the dog into the water- same reason as above.
Guide the dog out of the pool on your terms. Do not let the dog leap out of the pool and run away.
Things to remember:
Use the three P's: patience persistence and perseverance (see my previous blog on the "Three P's").
Praise your dog. It might not a big deal to you but it is to your dog.
If you have an in-ground pool:
The first step — you must get in the water with your dog.
Enter the pool first make sure your footing is secure. Stand at the bottom of the steps to the pool. Hold the dog's leash.
Do not throw treats or toys into the water with the dog and expect him to go after them. Do use the techniques of patience, persistence and perseverance as you did with getting the dog in the wading pool.
When your dog is in the water, hold the dog loosely in your arms while you allow the dog to swim next to you. Release the dog but stay near the dog. If it panics, you can calmly hold it again.
Go right to the steps of the pool with your dog — still loosely holding your dog's leash — and let the dog go up the steps on its own.
An above ground pool cannot be addressed in this blog. This procedure must be demonstrated in person.
Some general tips:
Do not ever force a dog to get into the water.
Do not throw a dog into the water and expect it to swim.
Do not laugh at your dog while it is floundering in the water.
Do not do any of the above techniques unless you are very calm, confident and not in a hurry!
If you are unsure about doing any of this — Do Not Do It!
As you can see, teaching a dog to swim is like teaching anyone else to swim. You might not be afraid of the water, but have compassion for dogs and humans who are! Have a safe and careful summer.
Julia Levitt is the founder of In Harmony Dog Training (www.inharmonydogtraining.com) in Ann Arbor. She can be reached at julia@inharmonydogtraining.com or at 734-645-4707. Julia provides individual training for dogs and their owners, and also conducts dog training classes at Ann Arbor Animal Hospital.