Posted on
Thu, Mar 15, 2012 : 5:53 a.m.
Teaching your dog to 'come' when called is an essential skill that will be a benefit for life
By Julia Levitt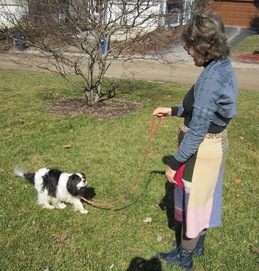 Julia Levitt | Contributor
A good question from interested readers of this blog prompted me to address a very important concern. The main concern was seemingly simple but, as the old saying goes, "there's a lot more here than meets the eye."
The question is: "How do I teach my dog to come when called, especially outside, with distractions such as other dogs, squirrels or cats?"
I know this simple little questions has a lot of layers, but I will try to "peel the layer of the onion.
I always start the "come" command in a distraction-free environment. Yes, there is such a thing. Of course the time is not right to teach this exercise when you are in a hurry, such as when you only have five minutes before you are late for an appointment or the kids are calling you to help them with their homework.
I begin on a very short leash with the dog or puppy sitting in front of me. This way I insure success. The name of the dog is called, then the command and a very, very small touch — not a tug, not a pull, but a touch with the leash. Here are the steps:
1. Dog in front of you. Sitting is preferred.
2. If the dog is not sitting, the dog must be looking at you. Why? If the dog is not concentrating on you, the dog's attention is elsewhere.
3. Call the dog's name.
4. Call "come" and touch the leash. By touching, I don't mean you should yank the dog off his feet. It's a simple movement with the fingers to alert the dog when the command is given, and movement from the dog is required!
How many times have you seen people call their dog by yelling furiously at the dog then continuing to yell at it after it has come — if it comes at all. Remember ,we want to insure success.
Praise is essential. What motivates your dog? My Wheaten Terrier would jump straight up in the air when she had performed a task. This dog was not motivated by food! Remember know what motivates your dog.
5. Next step: Reward with whatever motivates your dog or puppy, whether that's praise, touching and petting or a treat.
My clients Steve and Ann actually taught their puppy not to come (they are not alone). This is a very common trick.
I always say to people when I first teach the "come" command: Do not skip steps! When you meet with success, do not take your dog off leash.
Of course, though, this is often what happens. Success is met on leash, and the next time I see them, they stand in front of the dog calling it repeatedly to come, and the dog looks at them blankly (or doesn't look at you at all). They have taught their dog not to come.
When should I teach my dog to come? As soon as the puppy is brought home.
The wrong time to teach the command is when the dog runs after another dog, squirrel or human, or when a car drives by. You know the consequences. I've seen them.
This week, Dr. Cheryl Smith from Ann Arbor Animal Hospital came to demonstrate high level obedience training to one of my classes. One of the questions she was asked was, "How long did it take you to train your dog?"
Dr. Smith's answer says it all. "I started training this dog when he was seven weeks old, and he is now 13." Dr. Smith's dog's eyes never left her, even when the obedience exercises were over. Wouldn't we all love a dog like this?
I can't stress this strongly enough: The time for teaching is not in a crisis situation. With anything you want to teach your dog, you want to meet with success. Start training your dog early with the "come" command, and it will benefit you and your dog throughout the dog's life.
Julia Levitt is the founder of In Harmony Dog Training (www.inharmonydogtraining.com) in Ann Arbor. She can be reached at julia@inharmonydogtraining.com or at 734-645-4707. Julia provides individual training for dogs and their owners, and also conducts dog training classes at Ann Arbor Animal Hospital.