Posted on
Tue, Aug 7, 2012 : 11 a.m.
Local incident illustrates danger of mouse and rat poison for dogs
By Lorrie Shaw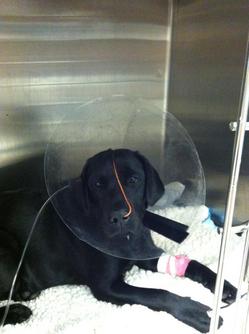 Photo by Michelle McCarthy
"It's a miracle that she's alive. She's a fighter."
After talking with Michelle McCarthy of Chelsea, that's what she concludes.
McCarthy is talking about her 9-month-old Labrador, Daphne.
"A dog that was not in as good of physical condition as Daphne surely would have died."
About three weeks ago, things suddenly had not looked very good for the dog. She was rushed to a local emergency veterinary hospital after McCarthy awoke one morning to find that Daphne had very labored breathing, was weak — and lying in a pool of blood in her crate.
It was clear that at that moment, the dog's condition was grave, but in the days before that, no one had a clue that she was so critically ill.
A few days before, McCarthy noticed that Daphne had been "spotting" — not something that unusual for a dog her age that is intact.
"I thought, 'Oh, she's gone into heat,' which was ironic, as she had an appointment for her upcoming spay procedure," says the seasoned canine professional.
And there was no other reason to think otherwise.
"As a dog trainer, I've been around and shared my life with so many dogs, but I've never had one myself who had gone into heat."
A couple of days later, Daphne had to be seen by her vet because of hotspots, and the clinician assumed that she had gone into heat as well.
But as it turns out, the showing of blood — even in minute amounts — is one of the first signs of the deadly illness that Daphne turned out to have: Anticoagulant poisoning.
In this case, it was caused by rat and mouse poison.
McCarthy was shocked. Mindful of all of the pets at her home — and their curiosity — rodenticides and chemicals like them are not used on their property.
Despite that, after some preliminary tests, including urinalysis, blood tests of varying types, and by asking good questions, the critical care doctors — Dr. Cheryl Smith, DVM and Dr. Anne Hale, DVM of Ann Arbor Animal Hospital — put the puzzle together.
Early on, it was clear that Daphne's symptoms were because of poisoning, so quick action was taken so that she had a fighting chance to survive.
As Hale, who attended Daphne's case and specializes in veterinary hematology, notes, that when the prospect of poisoning is there, (which you'll learn can happen more easily than you think) it's important for pet owners to not only take notice of any changes in their pet like behavior. They should watch for signs like withdrawing from normal activities; changes in appetite, urination/bowel movements, water consumption; excessive panting or trouble breathing. Bruising and a pale tongue and gums (the latter was something that Daphne exhibited as well) are also characteristics of the illness.
In Daphne's case, one thing that was a tell-tale clue of rodenticide poisoning — bleeding, as slight as it was in the beginning — seemed vague at best because of her sex and age. This was something McCarthy says no one should ever dismiss.
And she adds, "I am really grateful to both doctors, especially Dr. Smith. She just never gave up."
What these types of chemicals do to pets
Rodent poisons cause internal bleeding, so blood coming from the urinary tract, rectum, nose, or even with a cough (because of blood in the lungs) are symptoms of this type of poisoning. The chemical acts as an anticoagulant, blocking the synthesis of Vitamin K, a vitamin that helps in clotting blood.
Daphne spent several days in the veterinary hospital being treated, and Hale says that two things saved her life: The fact that she is young and healthy, and that quick action was taken at an apt facility.
Taking Daphne to AAAH was a smart decision, as the doctors were able to hone in on the issue quickly, and had the know-how and ability to treat it. Not every veterinary hospital falls into that category. In fact, the facility has immediate access to whole blood — something that the dog required two transfusions of.
Vitamin K was also administered to help Daphne's blood clot, and she needed to be kept on oxygen because her lungs were severely compromised.
What to do
Hale says that the hospital fields several calls each week with regard to an animal eating something that can harm them, like xylitol (a sweetener that is deadly to pets and is commonly found in sugar-free gum and candy), prescription medication and chemicals.
"It's always best to err on the side of caution and call us if a pet has consumed something like that," noting that in doing so can help the clinicians point the pet owner in the right direction with regard to what to do and more importantly, what not to do.
Poisoning cases are all different, and depending on the chemical, the species and breed of the animal the protocols can vary.
For example, some breeds of canines, like Dobermans and Scottish Terriers are especially susceptible to the effects of rodenticide poisoning, because of their predisposition to have von Willebrand's Disease, an inherited bleeding disorder.
The age and overall health of an animal can contribute to how gravely they are affected as well.
If you know that your pet has ingested rodenticide or any other chemical, Hale says to call Ann Arbor Animal Hospital immediately and follow the directives that you are given carefully.
The aftermath
After being released from the hospital just a few days ago, Daphne is still on restricted activity, mainly because of the impact on her lungs: Plenty of rest in her crate, no climbing stairs, no play activities and peace and quiet. (Limiting exertion on the lungs is crucial.) Although she is expected to make a full recovery, the damage caused to the dog's lungs may be permanent and only time will tell. She'll need follow-up X-rays to check her lungs.
Solving the mystery
During this process, McCarthy could not figure out how Daphne ingested the rodent poison. The dog has plenty of supervision when she's out of her own yard, and these chemicals are not used around her home. All clues pointed to one common issue when rodenticide poisoning occurs: A mouse that ingested the chemical elsewhere made its way into the yard.
Daphne suffered secondhand poisoning from eating the animal.
McCarthy recalls an occasion nearly two weeks prior to Daphne becoming ill when the pooch was adamant about going after something under the deck — likely a small critter.
"Secondhand poisoning is a problem, contrary to what people think," says Hale. "And, these chemicals seem to be getting more and more toxic each year."
And McCarthy adds, her tone quieting considerably, "While none of us want mice in our home, baiting a garage or home will allow animals to crawl off and die somewhere and the results can be deadly."
The following chemicals are usually found in rodenticides:
• Warfarin
• Hydroxycoumadin
• Brodifacoum
• Bromadiolone
• Pindone
• Diphacinone
• Diphenadione
• Chlorohacinone

Poisoning of this type, depending on how much has been ingested first- or secondhand, can take a couple of weeks to manifest. That's why it's vital to pay close attention when your pet exhibits changes in health or behavior, and to have Ann Arbor Animal Hospital's telephone number, 734-662-4474, close at hand.
As McCarthy reminds, "You know your pet better than anyone. If you feel that anything is amiss, pay attention and act accordingly."
To read more on anticoagulant and rodenticide poisoning, click here.
Lorrie Shaw leads the pets section for AnnArbor.com and is owner of Professional Pet Sitting. Shoot her an email, contact her at 734-904-7279 or follow her adventures on Twitter.