Posted on
Fri, Feb 8, 2013 : 3:35 p.m.
Playing games with pets lessens anxiety and improves their health
By Lyssa Alexander, DVM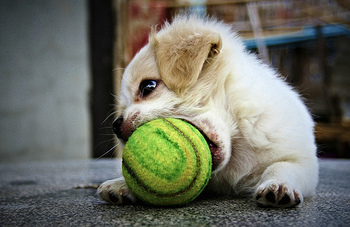 Photo by Flickr User PetteriO
Being a great pet owner means caring for all aspect of our pets' well-being. This includes feeding them and giving them a warm place to sleep of course, but it also means taking care of their medical needs to the best of our ability and keeping them happy and entertained. Luckily for us, keeping our
pets
happy does a lot of good towards keeping them healthy as well.
Stress and anxiety is common in dogs. It manifests itself in many ways, including separation anxiety, destructive behavior and aggression.
Stress and aggression are big enough problems on their own, but they often lead to secondary problems. One of my doggy patients with separation anxiety chewed up the carpet and had to have a pile of carpet shrapnel removed from her stomach surgically. Additionally, I have lost count of how many fighting-related wounds I have treated. One of the best ways to help prevent stress and anxiety in our pets is to create a regular routine of training, exercise and games.
There are many ways to entertain our dog friends. Finding an activity that your dog enjoys can add greatly to their quality of life. Many dogs love fetch, Frisbee and structured energy-releasing activities such as fly ball or agility. If your dog enjoys these, then take full advantage of them.
Other forms of enrichment that can be done in the house are hunting and foraging games. Hiding favorite toys or small treats can be a huge delight. You can also teach your dog to play hide seek with you if they enjoy these games. Activity toys can add greatly to their enrichment, especially for when they are left alone.
Treat rewards can greatly enhance your dog's enjoyment of these games, but they don't have to mean more calories. Your dog's own kibble will usually be motivation enough when it is offered during play. I have known people who never put food in their dogs' bowls. All of their diet was hand fed during training and games or placed in activity toys when they left their dogs alone.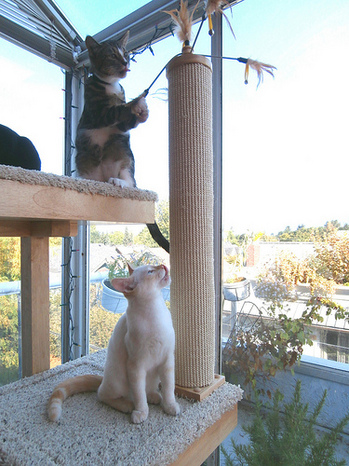 Photo by Flickr User metaphoricalplatypus
Cats need enrichment as well. Since cats are somewhat lazier and more independent than dogs, we often neglect their needs. However, there are several diseases that have been shown to have a direct correlation with stress levels in cats (urinary disease, upper respiratory disease, ocular diseases).
There are numerous ways to decrease anxiety in cats, however, and play and activity should be one of them. There are numerous toys available for cats, but many of them get lost in the corner of the room or left on a shelf. The key to getting cats to play with toys is for you to actually play with them. When I am treating a stress-related disease in cats I tell me owners to do game time with their cat on a schedule just like any other medication I prescribe. These simple 10-minute play sessions can keep your cat more active and less likely to get some of these diseases.
Birds (especially parrots) need structured playtime more than any other pet I know of. Many parrot owners are plagued with bored birds who become frustrated over time and begin to pick their own feathers out or even injure themselves severely.
Keeping them well stocked with safe toys that they can destroy or interact with can make a world of difference for these birds. Having scheduled times with you each day to practice words, explore new areas of the house, dance or sing together can add greatly to their health and your enjoyment of your pet bird.
Gulliver photo by Lyssa Alexander DVM
Small mammals should not be ignored either. Everyone knows that you can train dogs to do tricks, but rabbits, guinea pigs, rats and many other pets can learn to do so as well. Most small rodents love to get new cardboard or hay structures to play in and destroy. They love to explore new places (under supervision of course) and chew.
I loved giving my rats frozen peas or corn in a pie plate full of water filled with decorative rocks. They would spend a huge amount of time turning over rocks and splashing around.
In all of our pets, stress can lead to a weak immune system and a greater disease burden. We can help decrease their stress with species appropriate housing, a high quality diet, lots of exercise and lots of games. Additional tools such as Thundershirts for dogs, Adaptil collars for dogs, Feliway diffusers for cats and behavioral consultations and/or medications from your veterinarian can all add greatly to your pets well being. However, a little play goes a long way.
Lyssa Alexander, DVM treats small and exotic animals and pocket pets at All Creatures Animal Clinic.