Posted on
Mon, May 16, 2011 : 11:01 a.m.
Prevention is the best approach to control parasites in pets
By Lorrie Shaw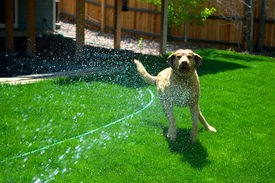 flickr photo courtesy of Zach Dischner
Our pets are our constant companions, and it's important that we take their well-being seriously. We know that steps like feeding a healthy diet, ensuring they wear identification on a collar and possibly even getting them microchipped are important.
Physical activity is a priority, too, and with the warm weather finally here, pets can indulge their craving to get outdoors.
All of this is a recipe for a healthy life, right?
Yes, but there is more to this equation.
With a cat or dogs increased activity outdoors, it's an invitation for parasites to tag along for the ride.
What do you think of when you hear the word parasite? Did you know that there are internal and external types?
Chances are, heartworm comes to mind, and that's a good thing. Heartworm testing yearly as well as monthly preventative is a must to keep pets safe, as Dr. Janet Figarra notes in a recent Ask Your Local Expert segment.
Heartworm can affect dogs as well as cats.
Other less talked about internal parasites, like whipworms, roundworms and hookworms are addressed as well in the segment.
Figarra, a veterinarian with Ann Arbor Animal Hospital, details the inherent risks that the external parasite, the tick, poses to pets and humans alike. The long-term effects from ticks from the diseases that they pass along such as Lyme, Erlichia and Rocky Mountain Spotted Fever can be debilitating.
Fleas can cause serious problems, too.
For more need-to-know information on parasites, click here to read more on what the doctor has to say.
Lorrie Shaw is lead pets blogger for AnnArbor.com and owner of Professional Pet Sitting. Shoot her an email, contact her at 734-904-7279 or follow her adventures on Twitter.