Posted on
Mon, Aug 8, 2011 : 2:15 p.m.
Puppy classes are a fun and beneficial activity for young dogs, but choosing the right one is important
By Lorrie Shaw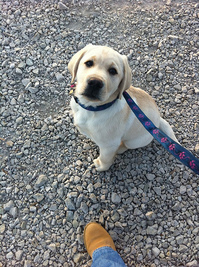 flickr photo courtesy of jesphasjoy
Getting a puppy is probably one of the most joyous occassions for pet owners, but it can certainly be a time of frustration, too.
Just as with any new adventure we embark on, there is always a lot of advice and strong opinions from others, even if they've never had a puppy.
Everyone is an expert, and it can be hard to know if what you're hearing is correct or useful.
What's more, the theory and practice of rearing puppies has changed a lot. I've seen a lot of changes in the past 10 years with the approaches and theories that are employed — most really good.
One common activity new puppies get to engage in proves to very helpful and sets them up for success throughout their lifetimes: puppy classes.
It's a great way for puppies to see other members of their own species and interact appropriately, and it helps the humans, too. Seeing other people encountering some of the same challenges — and overcoming them with the help of a wise teacher — can help ease the wondering: "Is this behavior normal? Am I the only one?"
Learning to speak the same "language" as your puppy and getting on the same page is essential. It's a daunting task to do with a weeks-old puppy, and with their ever-changing mental growth, it can be hard to feel like you're keeping up. The great thing is that other people in the class feel the same way, at least some of the time.
Before you know it, you're breezing through with no major issues. This is the way that it should go.
However, there is one practice clients have mentioned to me that's an unsuitable idea: the mixing of vastly different ages in puppy classes.
Puppy classes are designed for canines that are of like ages — and of sound behavior.
What happens when there is an older puppy (or in one case that I was made aware of, two older pups) included in the class, and it's clear that there is not only a maturity and size difference, but an obvious behavior problem? (In this case, the facilitator decided that it was prudent to implement the practice of the Alpha roll, not only for the young dog who had the behavior problem — which proved to be a physically dangerous challenge for the dog's human — but insisting that everyone else do it as well.)
Some facilitators do decide to include pups of mixed age and behavior, but as Valarie V.Tynes, DVM DACVB indicates in a helpful handout that you can view here, there are guidelines that those with new puppies can refer to help them ensure that their furry friends get off to a good start when it comes to good socialization, learning about other dogs and humans.
Tynes also touches on common questions that circulate regarding the transmissible illness, necessary vaccinations and what to look for in puppy classes before you commit.
Lorrie Shaw is lead pets blogger for AnnArbor.com and writes about pet health, behavior, pet culture and more. Catch her daily adventures as a dog walker and pet sitter or email her directly.