Posted on
Wed, Apr 14, 2010 : 3:25 p.m.
Real food for your dog: homemade dog treats that are easy on budgets and canine tummies
By Sue Talbert
We adopted a dog at the end of August. Two days prior to receiving him, I had no plans, ideas, or thoughts about having a dog - and yet, here he is. We adopted him from a family who could no longer keep him - if we hadn't brought him in, he would've ended up in a shelter, and I just couldn't let that happen. He's a great, big lummox-y beast with a heart of gold and a brain the size of a walnut. A Labradoodle by breeding, and a great family dog he is.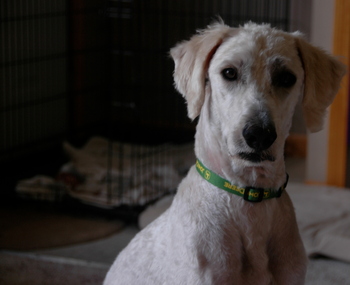 The trouble is, he has "Lab tummy issues," which I've learned are not uncommon. Many Labs are intolerant of corn and other GMO products that make their way in to commercially-available dog cookies - even the good ones with "premium ingredients." Our dog's tummy problems were really bad when we got him, but they are much better now, and they continue to improve. He's somewhat "jet propelled" when he goes up the stairs, however, to our chagrin and amusement.
When we ran out of the dog cookies from Costco (with the "premium ingredients" and definitely a premium pricetag), I wanted to experiment. He wasn't terribly fond of them to begin with (he would never take them from our hands) and at $20 per box, I knew I could try to come up with something better. As a frugalista who loves to cook and create new recipes, I was certain we could put whole ingredients in and create something Cody would love.
If you search "homemade dog treats," you'll come up with many, many options. I knew I wanted a whole wheat and oat treat, but it had to be corn-free. There are seemingly tons of recipes that sound good - until you get to "corn meal" in the list of ingredients, and a corn-intolerance in a dog is somewhat generic - it doesn't matter if it's corn meal, corn flour or whole corn kernels.
I ended up finding a decent recipe and tweaking it to make it work. They are easy to make and the dog LOVES them. He hangs around the kitchen when I mix them up and if I give him a bit of un-baked dough, he's in heaven. He takes the finished treat right from our hands and when I tested them on another dog (a tiny shi-tzu), the other dog also scarfed them down. So with two resounding, "yum"-votes, here's the recipe. Oh, and because we practice food storage habits, many of the items in the recipe come from our food storage, which makes these cookies even less expensive than otherwise.
Sue's Whole Grain Dog Cookies
* ½ cup coconut oil or butter
* ¾ cup hot chicken or beef broth
* ½ cup milk (buttermilk or kefir can also be used)
* 1 egg, beaten
* ½ teaspoon salt (I like Redmond Real Salt)
* 3 tablespoon (heaping) parsley
* 3-4 cups whole wheat flour
* 2 cups quick oats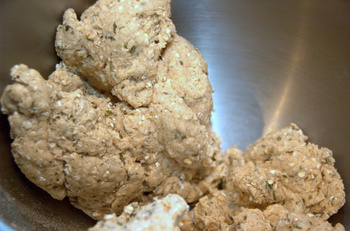 In a large mixing bowl, place butter or coconut oil and pour the hot broth over to melt it. Stir in milk, egg, salt, & parsley. Once combined, add in oats and begin combining whole wheat flour in, ½ cup at a time. I use my stand mixer for this, as the final dough is VERY stiff.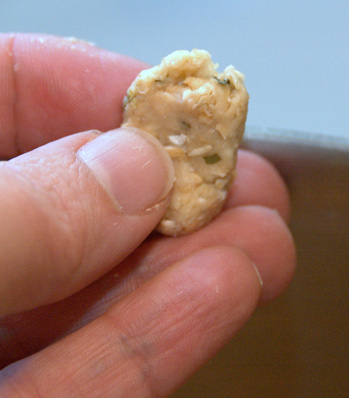 Continue adding flour until dough is stiff and the mixer is kneading it for you (or, if kneading my hand, you can't add in any more flour). Most of the time when I make this, I end up using the better part of 4 cups of flour, but depending on the humidity, you might find yourself going over the 4-cup mark. Don't worry - it's a forgiving recipe.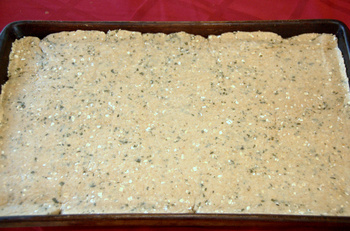 Once the dough is formed, spread it out via rolling pin on your counter and use cookie cutters to form shapes (optional), or spread it in a bar pan (jelly roll pan) and roll it in that from edge to edge. This recipe easily fills one 12×15-inch bar pan without problem.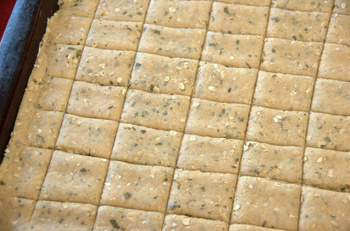 Once the dough is situated in the pan, use a pizza cutter and cut the dough in squares that are size-appropriate for your dog.
Bake at 325 degrees for 50 minutes, then turn off the oven and leave them in for another 2 to 3 hours and allow them to harden.
Cool completely and break apart with your fingers - the pre-cutting allows you to snap these babies apart easily, even though they are hard and ready for your pooch.
BONE appetit!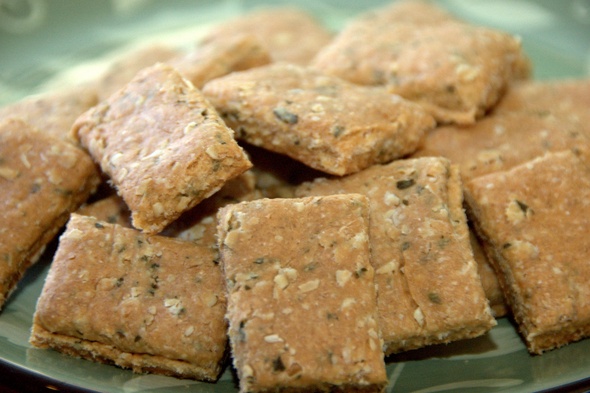 Sue is a wife, homeschooling mom, photographer, real-food advocate and dog-cookie baker. You can reach her via e-mail and read her regular ramblings at A Mother's Heart.

All photos, c. 2010, courtesy of A Mother's Heart Photography, Sue Talbert.