Posted on
Tue, Nov 27, 2012 : 11 a.m.
Sally is wishing for a home this holiday - meet the AnnArbor.com pet of the week
By Deb Kern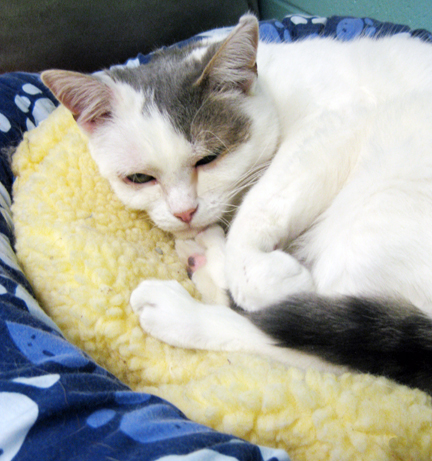 We'd like you to meet Sally, a special little
cat
that we adore. She came to the
Humane Society of Huron Valley
seven months ago along with 29 other adult cats that were not being cared for properly. Sally was socialized with other felines and would be a good candidate for a home that might be looking for another companion cat.
Sally is 6 years old, and because she was not given healthy food in her younger years and never visited a veterinarian until now, she has developed a chronic eye condition that causes her eyes to run. It doesn't bother Sally but we think people are afraid she's sick, so they pass right by her.
Affectionate and playful, Sally is a dear soul who is happy taking naps in her cat bed and batting a furry mouse along the floor while she purrs the entire time. Sally has blossomed into a loving cat, and while she spends her days in one of our community cat rooms right now, we know she's much prefer to finally have a home of her very own.
Could you give Sally a home for the holidays? She'd be forever grateful.
HSHV is open daily at 11 a.m. for adoptions. All pets available for adoption are spayed/neutered, up-to-date on their vaccinations, medically and behaviorally evaluated, and they have a microchip ID all included in their low adoption fee. Please make adoption your first option.
The Humane Society of Huron Valley, located in Ann Arbor, was awarded the "Best Large Animal Shelter in Michigan" by the Michigan Pet Fund Alliance, for the second time in a row this year, for saving the most lives. HSHV is an independent 501(c)(3) nonprofit organization and relies solely on donations from businesses and individuals to support our community programs.
HSHV is not affiliated with the Michigan Humane Society or any other humane organization. The mission of HSHV is to promote responsible and compassionate care of all animals in our community.
Deb Kern is the marketing director for the Humane Society of Huron Valley.