Posted on
Wed, Nov 7, 2012 : noon
'Scooting' isn't just an embarrassing thing that dogs do, it's indicative of a medical problem
By Lorrie Shaw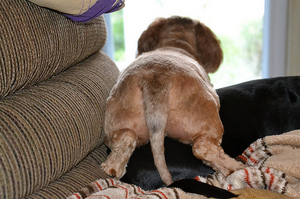 flickr photo by tobyotter
It seems to happen more commonly when you have company or when out in public: the unfailingly embarrassing behavior of your dog "
scooting
" his rump on the carpet or the grass.
As a pet sitter, I think that pet owners ask me about why pets do this (among other seemingly unsavory animal behaviors) rather than approaching their veterinarians about it because they feel more comfortable — or perhaps it's because they just aren't sure if it's a medical problem or not.
Either way, it is a medical issue that needs to be addressed and without delay. It's an indication that something isn't right, and it does require the expertise of a clinician to resolve it appropriately, as it has many causes.
It's important to remember that pets don't do it because they want to - they're trying to alleviate their discomfort the best way that they can.
There are a handful of reasons why it occurs, and with your help, a clinician can move in the right direction to best help your pet.
It happens mostly to dogs, but cats can experience the discomfort associated with the root causes.
Why
First, let's talk about a little about one of the most common causes of "scooting", as it's referred to in veterinary circles.
Anal sacs are two small glands that are located in the four and eight o'clock position around the anus, and their purpose is to impart a scent to the waste of the animal. Although we aren't able to detect it, other animals can, and the scent helps other dogs identify things like the age and sex of the source of the fecal matter. (And yes, anal glands are important in canine communication — if you've ever wondered why your pooch sniffs another dogs rear, this is why.) The glands also provide lubrication during defecation. Sometimes these glands don't function optimally, causing problems.
Parasites can cause scooting, and mainly tapeworms are the culprit, as Dr. Ernie Ward, featured veterinarian on the Rachael Ray Show and founder and chief-of-staff of Seaside Animal Care in Calabash, N.C details in a recent American Veterinary Medical Association podcast.
In other cases, an anatomical issue — hernia, stricture or a tumor is to blame.
Allergies can also manifest in the way of anal itching.
And if a pet's stools tend to be on the loose side, they may scoot in an effort to clean the anal area.
Identifying the cause
One thing that I am asked frequently is, 'Can I tell what is going on? What do I look for?'
It's simple: lift their tail and have a look. Most often, you'll see that the area is red or swollen, pus or blood may be present. If tapeworms are the cause, you'll see the tell-tale sign of what looks like 'grains of rice' around the fur on their backside and anal area. Once you can figure out that much, you can dialogue with your vet more effectively.
Treatment
Thankfully, your vet can address scooting, and proper and prompt treatment is crucial.
It may be that your dog's anal sacs need to be expressed, as they can become blocked. This tends to be more common in small breed dogs, and some dogs may require their glands to be expressed as often as four to six weeks.
If a parasite is the source of scooting, deworming is necessary and the medication needs to be prescribed by your veterinarian.
Surgery may be necessary if the culprit is something like a hernia or other anatomical problem. Make no mistake, delaying an anal sac problem like this can put dog in danger. A secondary problem of this nature can also reduce the tone in the anal sphincter, resulting in fecal incontinence.
Prevention
Fortunately there are things that pet owners can do to avoid scooting in the most cases.
As any clinician will tell you, monthly parasite preventative is a must. It's inexpensive, easy to administer and to obtain from your vet.
What your pet is eating can be a primary line of defense when it comes to staving off scooting, so feeding a high quality diet is crucial. Some clinicians believe that one rich in novel proteins is central, but more importantly, a diet high in fiber is a must.
If the cause is an allergy, identifying the offending source under the supervision of your vet is essential. If it's food-related, a limited ingredient diet may be in order. To help suppress an allergy and provide comfort on a maintenance level, over-the-counter or prescription allergy medicines can be helpful.
Click here to listen to the AVMA podcast on the topic.
Lorrie Shaw leads the pets section for AnnArbor.com and owner of Professional Pet Sitting. Shoot her an email, contact her at 734-904-7279 or follow her adventures on Twitter.