Posted on
Tue, Nov 23, 2010 : 2:40 p.m.
Season's greetings! Helping those dog greetings go smoothly this holiday season
By John Spieser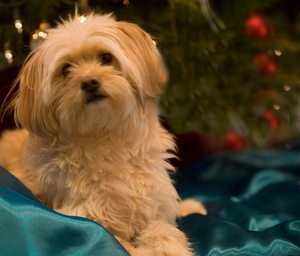 Photo by Jerry Buffman
The pulse of the pending holiday season tends to quicken hour by hour this time of year. Visiting schedules are getting finalized, guest rooms readied, menus planned, and yes, there are the pets.
The primary questions for many pet owners are: Who will care for them in our absence, or how will we care for them (and maintain harmony) with the pressure of having guests in our home or being in someone else's home? If you fall into the latter group, you may be starting to conjure up questions with the flavor of "I wonder if my sister's dog is good with cats?" or, thoughts like, "I hope that Ginger is OK with the baby." Celebratory events, which long to unfold without a hitch but rarely do, can be seriously challenged when unforeseen disharmony arises with our people, our pets or both. There are ways that you can soften the impact.
If you are traveling and will be leaving your pets behind in someone else's carem then I trust you did your homework and secured a safe, familiar environment for them. At least I hope so. If you are going to be entertaining family/friends or traveling with your dog, and especially if you are feeling some anxiety about how your dog or cat is going too fit into the scheme of things, this blog is for you.
Things will happen.
I've heard countless stories of precocious pets perpetuating perplexing problems over the holidays, ranging from ludicrously funny to downright disastrous. Of course! Any dramatic increase in activity around the house is bound to bring about some unexpected shenanigans from pets. A dog stealing a lap of whip cream off grandma's pie or a cat climbing the Christmas tree is one thing. A dog ending up in the E.R. from ingesting a deadly load of turkey grease or a child being bitten by an anxious dog is another. I guess the overall goal should be to keep things in the realm of what you can laugh about next year.
I could generate a long list of dos and don'ts as your life becomes a bustle of festivity in the coming weeks, but I won't. I do think it's wise to give forethought to all of the variables that may arise with regards to your pets. But what I would like to focus on primarily is holiday greetings, and their potential to go awry for dogs and cats. And I should probably throw kids in there too! I generally write about dogs but here I am being all-inclusive because there are a variety of players in this plot. We all know how polarized the energy can get when you have a house full of family members and all is not well, whether it's Fido jumping on Aunt Joan or terrorizing the cat, Fifi nipping at the kids or Dad and Uncle Irv arguing about politics.
Not being a family counselor I can't help you shore up the odds that the family will arrive with nothing but heartfelt holiday cheer, but if pet dynamics are something that could become an issue for you, consider these points:
-The usual scenario of complication arises when visiting pets, kids or any guests are having difficulty interfacing safely and comfortably with the home pets. Some classic examples are dogs fighting, dogs displaying aggression towards kids or vice versa, or cats going into a state of panic over the "invasion."

Remember that your pet views your home environment as his/her own and may feel threatened and/or protective of it. For this reason initial introductions with visiting dogs and kids often go better off of home boundary. Leave yourself some time to take a stroll with the new group in a low-pressure environment like the neighborhood park, before the social scene gets rolling at home. This will give your dog a chance to "warm up" before sharing the intimacy of his own space with strangers. In the case of cats, make sure that your cat(s) have a safe and accessible place of refuge that affords them the warming up option as well.

-Not always but often, clashes involving visiting and home kids/pets are the result of some perceived threat to a resource, such as a kid grabbing for food that the dog is after or wandering over to the dog while he chews on his bone. Or two dogs working out a similar dynamic.

Think about what your pets would consider their "personal" space in your home and work to preserve the sanctity of those spaces for them. Remove any potential resource "triggers" from areas that will be used as common space, such as rawhide chews, food bowls, prized toys etc. Exercise caution with food!

-Almost any dog who has had little or no exposure to small children will endure some level of anxiety having them in their space. They instinctively sense the unpredictability of toddling tykes. Even older kids can really throw a dog for a loop if they are excessively rowdy or out of control emotionally.

If parents don't have kids under control, your dog may decide that it is his job to do so. Adults being proactive and working cooperatively is the best way to circumvent this potentially hazardous arrangement. Require the kids to exhibit the same respectful behavior that you expect from your pets. If kids are being "permissibly" rowdy and you can see that your pet is anxious, then once again, provide him with a comfortable exit option, such as a quiet room or crate.

-There are times when the chemistry of a struggling co-existence is just way off, and there is nothing in the short term you're gonna do to change it, especially with the backdrop of holiday demands added to the mix. Ignoring your intuition or not mentioning a concern, essentially just crossing your fingers and hoping it all works out... I highly recommend you don't take this approach!

You don't have to spend the day on pin and needles. If you can see that anyone's safety is at stake, impose separation, as in, this dog goes here and this dog goes here. Or, the kids play here and the dog goes here. You get the picture. Most likely the visit will only be for a day or two, and, with the increased burdens, now is probably not the time to resolve serious conflict. Employ smart spacial management so that you can relax and enjoy your company. Have a glass of wine and and relieve yourself of the need to stay sharp enough to break up a dog fight!
Lastly, always provide your pet/s with plenty of exercise/interaction prior to becoming consumed in hosting duties and socializing. This way if the moment calls for increased management you know their needs have been met. Remember, there is no commandment stating that "Thou shalt include your dog in every moment of your holiday celebration." If he's had a good long walk/run or two or three, there is nothing wrong with putting him away for a while and enjoying some "people time" free of stress (at least pet stress).
Of all the shortcomings that families are prone to when faced with the task of facilitating harmony between pets and kids, lack of honest communication is at the top of the list. I admit it can be tough to tell a sibling or cousin they need to get their dog or 4 year old in line or to be the one to suggest that "something needs to change." But if all of this "holiday spirit" isn't at least partly about learning how to get along better and respecting one another's views, then perhaps chaos is all there is left.
John Spieser is a professional dog trainer and owner of Dogheart. He can be reached at john@doghearta2.com.