Posted on
Tue, Oct 9, 2012 : 6 a.m.
Meet the AnnArbor.com pet of the week: Grey Beard, a senior cat who has many healthy years ahead
By Deb Kern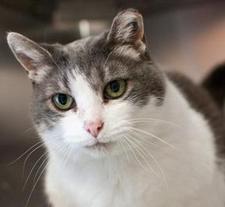 This wonderful 10-year-old
cat
was found as stray where he was trying to survive on dumpster food and occasional handouts. He is very happy to be back inside where he enjoys a warm lap and cuddle time with people. Grey Beard has been waiting for a new home for more than four months at the
Humane Society of Huron Valley
.
A favorite of staff and volunteers, Grey Beard could not be a more gentle or affectionate cat. Why he has not been adopted is really a mystery to everyone that spends time with him. He can be a little shy at first, but that change very quickly as soon as he gets to know you. Watch this short video to see what a love bug Grey Beard is. He almost seems to smile when you pet him.
Adopting a senior cat is very rewarding. They already know all the rules and are very grateful to you for giving them a second chance. Cats can live into their 20s, so Grey Beard has a long life left, and he is hoping his new family will come visit him and take him home very soon.
HSHV is open daily at 11a.m. for adoptions. Please stop by and visit Grey Beard.
All pets available for adoption are spayed/neutered, up-to-date on their vaccinations, medically and behaviorally evaluated, and they have a microchip ID all included in their low adoption fee. Please make adoption your first option.
The Humane Society of Huron Valley, located in Ann Arbor, was awarded the "Best Large Animal Shelter in Michigan" by the Michigan Pet Fund Alliance, for the second time in a row this year, for saving the most lives. HSHV is an independent 501(c)(3) nonprofit organization and relies solely on donations from businesses and individuals to support our community programs.
HSHV is not affiliated with the Michigan Humane Society or any other humane organization. The mission of HSHV is to promote responsible and compassionate care of all animals in our community.
Deb Kern is the marketing director at HSHV.