Posted on
Tue, Mar 1, 2011 : 6:24 a.m.
Service dog storytime educates and entertains at AADL downtown branch
By Mary Roderique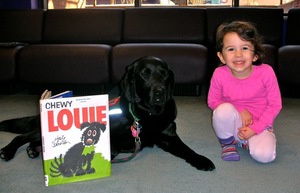 Mary Roderique | Contributor
One of my favorite programs with Colby, a
Canine Assistant Service Dog
that lives with our family, is
storytime
! These
community programs
are a great way for children and adults to learn about and meet a service dog. Colby loves listening to children
read
at schools, libraries, and at
826michigan
, but storytime is a way to reach a younger crowd.
On Wednesday, March 2, Colby will be presenting the "In Like a Lion...Out Like a Lab" storytime from 11-11:30 a.m. at the Ann Arbor District Library Downtown Youth Story Corner.
Colby starts her storytimes by explaining about the work that service dogs do, showing a working dog vest, and demonstrating several commands. After that, she usually stretches out and leaves the storytelling and song-leading to me and Laura Raynor, her favorite librarian.
After the stories and the songs, Colby relaxes in the story corner to be patted and petted and looked over. She leaves the answering of questions about Service Dogs and Canine Assistants to me.
AADL's storytime is a chance for little ones who would like to learn a little more about service dogs, hear great stories and songs, and pet a sweet dog! I like to think that storytime is a sign that spring is around the corner.

Mary Roderique is a regular pets contributor to AnnArbor.com and leads a Canine Assistants' National Volunteer program, Noah's Team of Ann Arbor with her dog, Colby. She also works as a Writing Workshop Consultant for teachers in Michigan and Indiana. She can be reached via email.
Colby Roderique works as a Canine Assistant Special Educator and insists that it is she, not Mary, that leads Noah's Team of Ann Arbor. She also enjoys volunteering at 826michigan. Colby is available to present about service dogs to schools, businesses, places of worship, and community organizations.