Posted on
Tue, Apr 23, 2013 : 6 a.m.
Annual event to offer free vision screenings for service animals
By Lorrie Shaw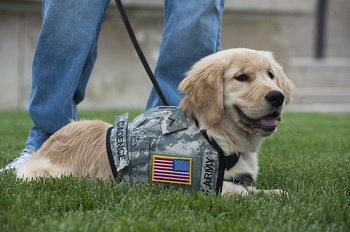 Flickr photo by Secretary of Defense
There are plenty of
dogs
in our community that have jobs: service dogs, certified therapy dogs, those that specialize in search and rescue — and canines that work in law enforcement.
Each have gone through extensive training, and although they use all of their senses to do their jobs, one in particular is essential — their sight. Even if smell is the predominant sense that is used, as in bomb or drug sniffing, these dogs couldn't manage without good vision.
One annual event will help the handlers and families of these dogs stay on top of things where their animal's ocular health is concerned. Board certified Diplomates of the American College of Veterinary Ophthalmologists and their staff have for six years generously donated their time and services to provide free screening ocular exams to qualified service animals who are currently active.
The ACVO/Merial National Service Dog Eye Exam Event takes place across the North America and includes Ann Arbor and other cities in Michigan.
"We really look forward to this event every year because it's our opportunity to help the service dogs who spend their lives helping us. They can't do their jobs if they have a vision problem or their eyes are uncomfortable," said Dr. Gwen Sila, a board-certified specialist in veterinary ophthalmology at Michigan Veterinary Specialists and BluePearl Veterinary Partners - Michigan.
The eye exams will be provided — free of charge — by ophthalmologists from Michigan Veterinary Specialists and BluePearl Veterinary Partners in Ann Arbor, Auburn Hills, Grand Rapids and Southfield.
To qualify, animals must be actively working and be certified by a formal training program or organization or are currently enrolled in a formal training program. The certifying organization can be national, regional or local (such as Pet Partners, Therapy Dog, Inc. or International Association of Assistance Dog Partners).
Owners or handlers of the animal must register via an online form. (Available by clicking here.)
Once registration is completed, a registration number will be assigned, giving access to a list of participating doctors in the area. At that point, the owner/handler can reach out to an ophthalmologist to schedule an appointment.
All event appointments will take place during the month of May, and registration for the event ends April 30.
To date, more than 15,000 service animals have had these free screenings.
Click here for more to visit the event website.
Lorrie Shaw leads the pets section for AnnArbor.com and is owner of Professional Pet Sitting. Shoot her an email, contact her at 734-904-7279 or follow her adventures on Twitter.