Posted on
Mon, Oct 31, 2011 : 10:10 p.m.
Pet overpopulation continues to be a problem, but nonsurgical options may offer hope in the future
By Lorrie Shaw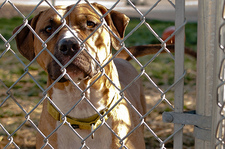 flickr photo by cnolan011
The buzz this week isn't just about the 2012 election and the freakish Nor'easter that hit several states over the weekend.
The topic on the lips of some, is the ever-growing human population — one that experts say is increasing by 75 million more births than deaths each year — and is due to hit the 7 billion mark today.
Whether or not one believes that figure doesn't matter; what does, is simply that there's been a spurt in population growth in our recent history.
You're probably wondering what does this have to do with the topic of pets. More than you think. The domesticated pet population is growing alongside humans, and it's no wonder, really.
Dogs, especially, have been tied to our own evolution and have a solid tether to many families in our own society — and the idea of sharing life with canines more closely is catching on in cultures whose members may have shied away doing so previously. Cats have a special place in our lives and, in many cases, they are like the proverbial potato chip for many people: you can't have just one.
But some sad realities come to mind when I think of companion animals and their numbers: the problem of pet homelessness and overpopulation, the needless suffering of many degrees and instances of euthanasia that are, in some situations, the only solution.
Are people really getting the message about what is happening with companion animals?
The primary battle
First, understand that from a biological standpoint, it's a battle with pets, as Julie Levy, DVM, director of Maddie's Shelter Medicine Program at the University of Florida's College of Veterinary Medicine points out.
"Reproductive success drives evolution, so reproductive forces are the strongest biological factors [in] any species. That's why no one has figured this out yet — it's hard."
If one blockade is put into place to curb reproduction, biology takes over and simply walks around it and compensates.
Companion animals who are not spayed or neutered are a major factor in the pet population surge. This was an issue that the ASPCA addressed with a policy decision that made waves in 1972. From then on, every animal adopted from their shelters had to be spayed or neutered — a real shift in forward thinking.
Now, it's standard practice for shelters and rescues across the nation, and the procedures, with their superb success rate, are usually offered at a reduced rate to adoptive families.
For those who welcome a pet into their family due to other circumstances, discounted spay and neuter services are offered at organizations across the nation. Southeast Michigan boasts many programs, like the one available at the Humane Society of Huron Valley.
A comprehensive database of low-cost options is available on All About Animals' website.
With so much emphasis on spay and neuter, you would think that things would be well under control. But, the issue of overpopulation, homelessness and shelter overcrowding is still at the forefront nearly 40 years after the widely-accepted policy.
What continues to fuel the overpopulation and homelessness problem? Why are so many organizations overloaded with dogs and cats?
No-kill shelters: helping or hurting the cause?
Has one concept that has gained popularity in recent years, the "no-kill" movement, harmed or helped when it comes to the problem of homelessness?
Certainly, reputable shelters and rescues who have achieved this status are the exception. They are staffed with knowledgeable, capable professionals who can honestly address the real needs of the pets that they bring into their intake process — and have the means to temporarily house and care for these animals.
Make no mistake: there is a lot of work, knowledge, financial backing and support from qualified professionals needed to make animal welfare organizations like these the successes that they set out to be. Facilities that are properly equipped is essential. These organizations cannot operate simply on the premise of "save every one."
The sad reality is, in some cases, the zeal of the no-kill movement may not be as much of a boon to pets as many think, as reported in USAToday.com.
Some no-kill organizations — those who are poorly organized, underfunded, and those that do not seek the assistance from shelters who are successful — are unprepared when they have trouble adopting dogs and cats out. Stories of pets having little human interaction and no exercise are reported. It's also been reported that many the amount of water they can have is limited so that they need not urinate as frequently. Some pets spend years in these shelters.
Is that a good transition for a pet until it is placed in a stable home (if that happens)?
Even with good results, has the no-kill movement simply reinforced the idea in some pet owner's minds that there will always be a place for an unwanted pets to go if things don't work out?
New hope on the horizon
In an article from early this year in The Bark, controlling the populations of canines and felines was addressed, but with a different take and new hope: nonsurgical birth control.
EsterilSol, an injectable sterilant, which is being tested in the field under FDA approval in places like Guatemala and the Dominican Republic, may prove to be not only effective in reducing pet populations, but also socially acceptable, because, in some circles, castration seems emasculating.
Other nonsurgical sterilants are being tested as well. So is this the Holy Grail when it comes to getting the pet populations under control? Click here to read more about the less expensive, nonsurgical possibilities detailed in the article.
Having said that, what do you see working in the area of addressing pet overpopulation? What is contributing to the problem?
Lorrie Shaw is lead pets blogger for AnnArbor.com. Catch her daily dog walking and pet sitting adventures or email her directly.